Stone Crop - Flowering Benefits for that Perfect Appearance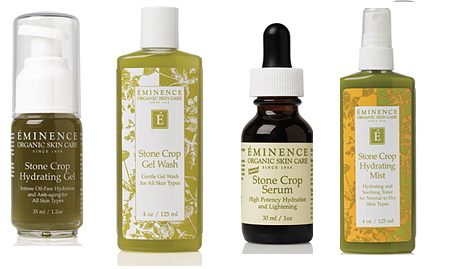 It's perfect for the skin and for providing an even tone. Your senses light up from a pleasant aroma as you apply the non-oily moisturizer to your skin. You'll not only like the way it feels, but you'll also be amazed at how it makes your skin soft without leaving a sheen or greasy effect on your skin. Those are just some of the descriptions of
Eminence Organics
Stone Crop Whip Moisturizer
you hear from overjoyed customers who want to spread the good news. Customers who use other
Eminence Organic Skin Care
products containing stone crop offer similar endorsements in rave reviews.
Background on Stone Crop Plants
The flowering herb has ingredients that have medicinal uses, including treating wounds, burns, warts, eczema and sores. Because of this, stone crop often works effectively at lightening skin areas for people with sensitive skin and skin with discolored areas. But stone crop works on all skin types because it has marvelous capabilities to regenerate skin cells for skin renewal and enhanced skin appearance. It also protects the skin from outside factors, such as pollutants and irritants because of the antioxidants in the plant. While calming sensitive skin and reducing pigmentation to lighten skin, stone crop also moisturizes to reduce and eliminate aging skin. It revitalizes and firms stressed skin. You can find a wide variety of stone crop products from
Eminence Organic Skin Care
, including the popular
Stone Crop Gel Wash
, a gentle cleansing item for all skin types. Like all
Eminence skin care products
, the gel wash contains no sodium lauryl sulphate, often used in commercial cleansing agents.
Eminence
continues to pride itself on offering truly organic ingredients for your skin. The
Stone Crop Serum
tones and evens your skin with nutrients that provide effective moisturizing. You have all the benefits of stone crop with hydrating, skin renewal and antioxidant action to beautify the skin while reducing lines and wrinkles. Antioxidants also come from powerful green tea extract.
Lightening Effects in Eminence Stone Crop Products
Enjoy the hydrating and lightening effects from
Stone Crop Body Lotion
, which improves appearance on all skin types, but becomes particularly helpful for those with sun-damaged and uneven skin. Along with the natural healing powers of stone crop, the
Stone Crop Body Lotion
also contains the unique
Eminence
Biocomplex formula, which infuses your skin with antioxidants, coenzyme Q10, vitamins and minerals to help eliminate wrinkles and other age-related effects. Bioflavonoids nourish and moisturize the skin while lemon contents in the product refresh and tone your skin. Even better, you have a chance to be creative by taking advantage of a whole range of stone crop items with the
Stone Crop Collection Tube
, filled with your favorite products in a wooden tube. The collection features
Stone Crop Gel Wash, Stone Crop Whip Moisturizer, Stone Crop Serum, Stone Crop Gel Hydrator and Stone Crop Masque
. You will reap the rewards of skin that remains undamaged from environmental factors while providing your skin with regeneration for improved, glowing features, thanks to these all-natural skin care products. Beautiful, invigorating skin will flourish like the flowering plant of stone crop. Let the wonders of nature replenish your skin with the careful preparations used in organic applications for a natural beauty.
Eminence Organic Skin Care
makes sure that nature, which beautifies the environment, can be captured and packaged in all-natural,
organic skin products
to beautify your skin naturally.