Eminence Ingredient Spotlight: Paprika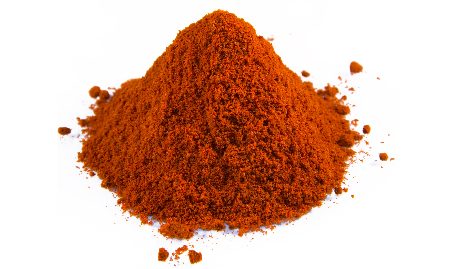 Found in kitchens of homes and restaurants all over, paprika adds a delightfully tasty spice to foods and meals. Happy diners may be unaware of the nutritional value of paprika. They just enjoy the flavor it adds to their taste buds after sprinkled on foods. Paprika offers amazing health benefits, and not just from dietary consumption. The nutritional value of paprika also boosts vital properties in your skin. The nutrients in paprika can provide skin health when ingested from delicious foods, but the powerful ingredients absorb into your skin even faster for more productive results when used in the products from
Eminence Organic Skin Care.
Health Benefits of Paprika
Vitamin C has a strong presence in paprika. You might think oranges have plenty of vitamin C for health, but tomatoes have richer amounts of the healthful vitamin. Therefore, you might be interested to know that paprika has five to nearly 10 times as much vitamin C as a tomato. Used in skin care formulas, paprika helps to fight off infections and skin disorders that you may have found annoying. Vitamin C also acts as an antioxidant to combat free radicals that may invade your body from environmental sources. The vitamin C content in paprika plays a significant role in protecting you from the skin damage and accelerated skin aging caused by the normal activity of free radicals. Paprika is packed with large amounts of capsaicin, phytochemicals with anti-inflammatory powers. Capsaicin has been used successfully to treat painful joints and even arthritis. It is believed it does this by improving blood circulation. The blood circulating abilities along with the plant enzymes in paprika also greatly improve skin health and appearance. The ingredients for skin benefits have been wisely transformed by researchers and beauty technicians for skin enhancement through Eminence Organic Skin Care. Because of its boosting effects for improved blood circulation, paprika stimulates skin tissues for youthful-looking, vibrant skin.
Eminence Organics Hungarian Herbal Mud Treatment
uses the valuable ingredients of paprika to remove dead skin cells and clear clogged pores to improve skin regeneration and skin renewal for a radiant appearance on all skin types and a wide range of skin problems. You can customize the treatment for your own particular needs. Use the organic herbal toner, moisturizer, sunscreen and masque applications for a pleasant facial that leaves your skin silky and smooth. You'll not only notice an instant glow to your appearance, but you will find your skin stays young looking and invigorated because of paprika and other organic ingredients in the treatment.
Eminence Cinnamon Paprika Body Lotion is a Best Seller
Eminence
Organics
Cinnamon Paprika Body Lotion
also contains the antioxidants that protect your skin from premature aging, lines and wrinkles. Improved blood circulation from the paprika nourishes and calms your skin while helping to tighten and firm the skin and promoting elasticity. The lotion includes Biocomplex, the exclusive formula from
Eminence
that enriches your skin and body with antioxidants. Other ingredients in the all-natural product include carrot, vitamin A and calendula to further nourish and boost skin health. The paprika and cinnamon in Eminence Cinnamon Paprika Body Lotion provide a warming effect you will feel in your skin and throughout your body. You will immediately notice the relaxation it brings you through improved blood circulation. These physical effects tell you that the lotion has tremendous potential to revitalize your skin the natural way. Paprika is among the many organic substances that keep skin young looking with a continued glow for customers who enjoy
Eminence Organic Skin Care.