Sweet Secrets of the Red Rose and Heartwarming Beauty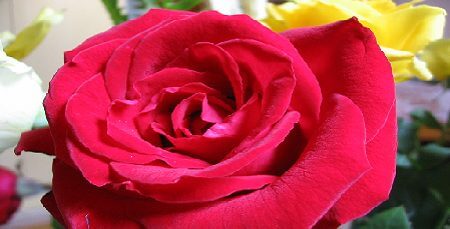 There's more to a
red rose
than romance. True, the flower evokes heartwarming and sensual feelings. It affects the mind, body and spirit, and it also makes for wonderful skin care. The rose has been recognized for centuries for its medicinal powers. Rose petals were used for cleansing wounds and to help stop bleeding. Soon, rosewater and rose oil were discovered for use in facial creams, washes and lotions. The pleasant fragrance from the rose adds to a spa treatment at home or in a clinic. Enjoy rose petals in a bath for luxurious treatment anywhere. The rose will always hold a special place in your heart because it represents beauty inside and out.
Vibrant Glow with Sweet Red Rose
It's no coincidence rose petals and rose hips are used for herbal remedies, such as herbal teas and baths. The natural ingredients can be equally powerful as skin care remedies, and researchers and manufacturers have found this out. Make sure you get the real deal when searching for scented plants that improve your appearance.
Eminence organic skin care
assures you that you receive truly all-natural substances when you buy your products. When it comes to
red rose
skin care, Eminance provides you with real enhancement for normal, combination, sensitive, dry or irritated skin. Enhance your romance, emotions, spirit and vibrant glow with sweet
red rose
from the heart.
Red Rose Provides Natural Skin Treatment
Speaking of sweet red rose, you have an ideal cleansing milk texture solution from Eminence with
Sweet Red Rose Cleanser
. The cleanser helps hydrate your skin safely around the eyes with fragrant rose oil and lemon juice to tone and reduce any visible signs of aging. Sensitive, normal, combination and dry skin types will feel the soothing and hydrating texture from the sweet red rose petals. The sweet
red rose
oil helps replenish your skin's moisture barrier. You won't find any parabens, sodium lauryl sulfates, synthetic additives or dyes, or animal by-products in this Eminence product. Like the entire Eminence skin care line, you receive completely natural treatment for your skin, and the results speak for themselves!
Red Rose for Antioxidant-Rich Skin Care
Or try the soothing and rejuvenating experience of
Sweet Red Rose Whip Moisturizer
. The creamy moisturizer not only adds a wonderful glow to your skin, but it also protects sun-damaged, sensitive, irritated or mature skin by preventing inflammation and helping with the skin's regenerating process. The sweet
red rose
petals act as antioxidants to keep your skin safe from damage no matter where you are while nourishing and moisturizing your skin. You get enriched nourishment from sweet
red rose
extract. The moisturizer gives your skin a boost from the antioxidants in bioflavonoids and the exclusive Biocomplex mixture. This antioxidant booster includes vitamins and nutrients to protect your skin from sun or environmental damage. It's a good time to start thinking about protecting yourself from unnecessary lines and wrinkles that form from skin damage. Whether in cold or hot temperatures, using natural solutions helps maintain your skin's natural texture and fight damage. You can owe much of your skin's beauty to that unique
red rose
that brings splendid, heartwarming results.