Stop Dry Skin with Eminence Lemon Cleanser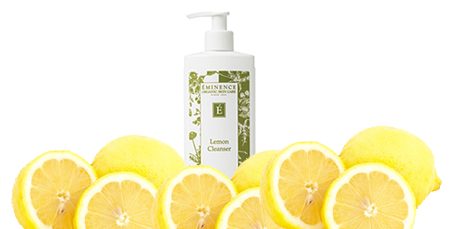 Clean, refreshed skin is yours with the detoxifying and antibacterial healing powers of lemon through
Eminence Lemon Cleanser
. The lemon scent alone makes you feel wonderful as the gently cleanse your skin with lemon and herbal oils for hydration that leaves your skin with a soft, velvety sensation. The cleanser is also packed with vitamins, minerals and other nutrients to provide antioxidants that prevent skin damage. You don't need the scrubbing, stripping or stretching of other cleansers when you can benefit from Eminence Lemon Cleanser, which softly sweeps away debris, dirt and excess oil from your skin and pores. The uniqueness of Eminence skin care cleans your skin and also enhances your beauty. Along with the natural powers of lemon, which tones, refreshes and nourishes the skin with vitamin C benefits, the cleanser also contains herbal oils to soften and boost the skin tissue as well as natural bioflavonoids for moisturizing and enriching the skin. The exclusive Biocomplex formula in the lemon cleanser provides a powerful antioxidant boost from vitamins A, C and E, alpha lipoic acid and coenzyme Q10. You not only stop dry skin, but you also watch in amazement as your skin becomes healthier and more beautiful than you even imagined. Just wait for the compliments from friends and acquaintances after using
Eminence Lemon Cleanser.
Keep Dry Skin Away with Lemon Cleanser
The secret to keeping dry skin at bay while boosting skin moisture forms the foundation of Eminence organics skin care. Only pure, natural ingredients are used in Eminence products. Many commercial skin care products use chemicals in an attempt to avoid dry skin. But the chemicals only leave the skin drier and cause further skin problems. Dried, dead skin tissue interferes with natural skin renewal, so your skin begins to look worse instead of better. Many of the chemicals used in commercial brands contain parabens, sodium lauryl sulfates and GMOS, known to trigger skin disorders and perhaps serious illness or disease by invading your body's tissues through the skin. Eminence skin care has none of these chemicals. There are also no synthetic dyes, petrochemicals or animal by-products used in Eminence products. No animal testing is used in the manufacturing process. The hand-picked, handmade skin care products are natural from the beginning to the end. This is the reason Eminence Lemon Cleanser and other Eminence products are able to repair dry skin issues while leaving the skin hydrated enough for health. The natural ingredients in the lemon cleanser work naturally to remove excess oils, but also have natural moisturizers to soften the skin and avoid skin disruptions as with other products. Your skin's healthy skin renewal process continues with regeneration from healthy, new skin cells.
Try Eminence Dry Skin Starter Set with Lemon Cleanser
The Eminence dry skin starter set brings about added nourishment and enhancement for your natural skin with additions the lemon cleanser. The starter set rejuvenates the skin with rich organic ingredients from the
Rosehip & Maize Masque
,
Blueberry Soy Repair Masque
,
Linden Calendula Treatment Cream
and
Naseberry Treatment Cream
. The set comes in a beautifully elegant wooden box. Get rid of that dry skin and enjoy a healthier you and a beautiful complexion with
Eminence Lemon Cleanser
and other organic skin care products.
Shop Eminence Organic Skin Care.