Read Eminence Organics Probiotic Cleanser Reviews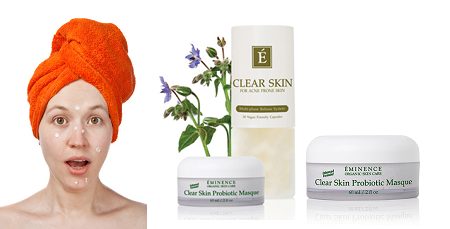 Wondering which products to use if you have reoccurring and uncontrollable acne? Your decision may be a little easier after reading Eminence Organics Probiotic Cleanser Reviews. With so many products lining the shelves claiming to eradicate acne, it is important to look for products that are effective in treating the cause of acne rather than just fighting the symptoms. Many products have very potent acne-fighting ingredients, but are so harsh that they leave your skin dry and flaky and irritated. For some users, the over-drying of their face causes their oil-producing endocrine glands to kick into overdrive and make their acne even worse! The gentle and effective ingredients found in Eminence Organic
Clear Skin Probiotic Cleanser
, Masque and Moisturizer should be a high contender when looking for the right products for your face.
Eminence Acne Products for Everyone
Whether you're just entering your teen years or well into adulthood, many people struggle with acne and breakouts. What people don't realize is that there are multiple reasons causing your acne other than just hormonal changes, although that is a common cause. Acne develops when your hair follicles become plugged with sebum (oil) and dead skin cells. This can lead to an infection which then results in inflammation to the skin, and an acne pimple to develop. Luckily, Eminence acne products are here to help, and in an all-natural way!
Common Causes of Acne:
1. Microbial Contact:
Bacteria occurs as a result of clogged up pores. Usually, this is due to makeup; foundation and powders, as well as bacteria that occurs from unwashed sheets and pillow cases, and the worst of all: cell phones!
What helps this type of acne?
Products containing Tea Tree Oil like the VitaSkin Clear Skin Collection from Eminence. Tea Tree oil has anti-bacterial properties that help fight micrbobes found on skin and bed linens.
2. Hormonal Changes
This occurs from changes in the body; menstrual cycle and stress cause estrogen levels to go down and testosterone levels to dominate. Testosterone causes more oil to be produced.
What helps this type of acne?
Products which regulate hormones such as:
Eight greens Youth Serum
Eight Greens Phyto Masque
Eight Greens Whip Moisturizer
Lime stimulating masque
Hungarian Herbal Mud
Tip* Do not exfoliate since this is not a typical congested breakout
3. Internal
These occur due to foreign objects in the body which creates inflammation- your body's line of defense. Some of these internal problems come from toxins- usually found in yeast and parasites.
What helps this type of acne?
To Fight Toxins: look for ezymes that help dissolve toxins such as cellulose, serrapeptase, nanocleanase, cinnamon, honey , clove oil, eucalyptus, thieves oil
To Fight Parasites: Look for natural anti-biotics such as green walnut complex, olive leaf, garlic
Tip: Remember to be on a probiotics during your treatments.
4. Over-stripping (Peels, "gentle cleansers," benzyl peroxide, etc..)
Over-stripping irritates the skin and gets rid of too many skin oils which consequently can cause even more oil to be produced. This usually results in even more breakouts.
What helps this type of acne?
Cleansing no more than two times a day with nourishing, antibacterial cleansers. Many of the "gentle acne cleansers" on the market are not so gentle and are very harsh on the skin and leave your skin feeling dry and flaky.
5. Diet:
Eating the wrong types of oils, fats, meats, in your diet causes the body to excrete the wrong types of these oils on our skin. Many of the problems comes from too much red meat and hormone-injected products.
What help with this type of acne?
Eight Greens products (Eight Greens Youth Serum, Eight Greens Whip Moisturizer, Eight Greens Phyto Masque) are very beneficial due to their ingredients like flaxseed (Omega -3) Fish oil and evening primrose.
6. Dehydration:
Almost everyone has dehydrated skin, but when oil glands pump out oil and there is not enough moisture to help lubricate the skin , you develop clogged pores.
What helps with this type of acne?
Deeply hydrating products such as Seven Herb Treatment & Eight Greens Masque.
Eminence Acne Products Alternatives
Eminence acne products are great alternatives to many harsh chemical products found on the supermarket shelves. You can easily replace the harsh chemicals like Salicylic Acid, Glycolic Acid, Benzyl Peroxide, Adeclinine, Retin-a with products containing all natural ingredients and probiotics. Check out the Mineral Cleanser, Eucalyptus Cleanser, Rosehip Tonique and Moisturizer, VitaSkin Clear Skin Cleanser, Masque and Moisturizer, Carrot Vitamin Masque, Yam & Pumpkin Peel.
What Eminence Organic Probiotic Cleanser Reviews are Saying
Eminence's Clear Skin Probiotic line is effective and reducing all of the causes of acne because of the multitude of nourishing, balancing, acne-fighting, and hydrating properties found all in one. It has the benefits are treating any of the common causes to acne without leaving your skin feeling dry and flaky and even more irritated. The cooling effect in the probiotic series helps calm the inflammation and immediately reduce redness and swelling in the face.
"I have tried EVERY acne product on the market with very little success, until I found the probiotic line! It has not only cleared my breakouts, but prevented new ones as well without the harsh over drying I have experienced with previous treatments. The probiotic cleanser, mask and moisturizer are life savers. I would recommend this line to anyone who struggles with acne prone skin and is frustrated with their breakouts. I have been using this line for almost a year and I'm still acne free and happier than ever!" "Clear Skin Line puts proactive and all other acne products to shame!" One customer points out. "This cleanser has kept my skin clear from day one1!"
Try for yourself and make your own
Eminence Organics Probiotic Cleanser review
. Keep your skin healthy and clear with the all natural and powerful acne-fighting ingredients while maintaining balance and hydration to your skin for the utmost radiant and glowing appearance!
Shop Eminence Here.