Nourish Your Skin With Eminence Organics Lemon Cleanser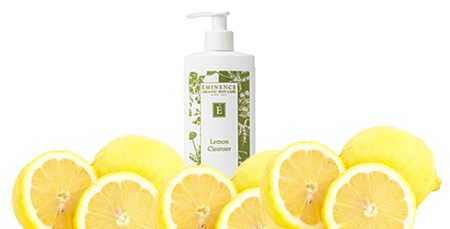 Now that were heading into winter season, make sure you use the appropriate products to keep your skin hydrated and supple and prevent against windburn and dryness. What's the most popular cleanser this season? Eminence Organics Lemon Cleanser. This lemon scented, refreshing and creamy cleanser is perfect for all skin types including even the most sensitive. The
Lemon Cleanser
is used by estheticians nationwide because they know the incredible benefits it will deliver to the skin.
Prepping the Skin with Eminence Lemon Cleanser
The first step in any skin care regimen is using a high quality cleanser. Many people forgo a quality cleanser in lieu of using extra age defying moisturizers and serums. Having a high quality cleanser is an essential and crucial part in making sure your skin retains its moisture and allows better absorption in the following steps. Think of the cleansing process as prepping the skin. Not only will the products you use after your cleanser work better, your skin will ultimately look better because it is being completely nourished, cleansed and won't be stripped of important skin oils.
No Ingredient Skimping in the Eminence Lemon Cleanser
Many over-the-counter cleansers that are made with cheap ingredients will leave your skin feeling "squeaky clean" - an indication that your makeup and dirt have been cleansed away but also all of your natural and beneficial oils have been stripped away as well. Having natural oils on the skin ensure proper hydration, moisturizers as well as forming a protective barrier to outside irritants. Use products with natural and nourishing oils such as the Lemon Cleanser from
Eminence Organics
. Made with pure lemon and herb oils, this fluid milk cleanser will leave your skin soft and supple to the touch while free of any leftover makeup, dirt or excessive oils.
No Harmful Chemicals Used in Eminence Products
Make sure to look for products free of harmful chemicals or preservatives, GMOs, parabens, sodium luaryl sulfates, synthetic dyes, petrochemicals, animal by-products, phthalates and triclosan. All of these ingredients, which are unfortunately found in a majority of beauty products, have been found to be carcinogenic and irritating to the skin. The thought of using products that can actually be a detriment to your skin rather than a benefit is mind boggling. That is why the use of high quality products, like the
Eminence Organics Lemon Cleanser
, is eminent in your skin care protocol.