Lovely Hands, Legs with Organic Affection from Eminence Skin Care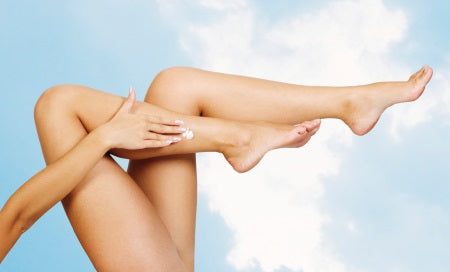 Your hands, legs and feet are as important as your face when focusing on your appearance, and you can keep them remaining at their prettiest through
Eminence Organic Skin Care
. Age spots, lines, wrinkles and veins can tarnish that wonderful image you've been working so hard at. All-natural skin care products ensure protection from various elements in the environment and aging factors that affect your face and areas on your body. Just as you protect your facial features from the damaging effects of the sun, you also need to guard against sun exposure when it comes to your hands and legs.
Protect Your Delicate Hands & Feet
Your hands, legs and feet also need special care during everyday activities. For example, you want to wear gloves when washing dishes or doing yard work. Protective clothing and proper shoes keep your legs and feet in shape while also keeping any potential damage from certain weather conditions at bay. Use sunscreen on your hands and legs, as well as other exposed areas of your body, when venturing outdoors.
Eminence Skin Care for the Body
Helping to keep your skin smooth, firm and safe are the organic products from
Eminence Skin Care
. The chemical-free, all –natural cosmetics, lotions, creams, gels and oils from Eminence Organic Skin Care provide that safety as well as improving the beauty of your skin! Unlike commercial brands loaded with synthetic substances or products that claim to be natural, but also contain chemicals, genuine organic skin care items from Eminence purify your skin with elements from nature. The organic solutions in skin care and make-up from Eminence boost your skin's renewal and regeneration capabilities. The natural ingredients in organic skin care help your skin cells and tissues produce firm, smooth and glowing skin everywhere on your body. While you take the proper precautions to keep your hands and legs protected, include organic skin care in your daily routine to ward off aging spots or lines for fabulous looking hands, legs and feet!
Hands
The soothing application of tea tree oil in Eminence Organics Tea Tree & Mint Hand Cleanser provides natural anti-inflammatory and antiseptic properties as an alternative to commercial hand sanitizers. The hand cleanser also contains natural antibacterial effects from denatured grain alcohol and calming vanilla to improve blood circulation that enhances the appearance of your hands. Remove impurities in your skin with the antioxidants from peppermint. Chamomile helps balance and regenerate your skin.
Legs
Lychee Leg Firming Treatmen
t moisturizes and improves blood circulation to reduce the appearance of varicose veins. The firming treatment relieves tired, aching legs and improves leg contour. The lychee fruit is known to reduce pain, soreness and swelling. Clinical research shows volunteers using LegActif, contained in the treatment, reported immediate relief from tired, aching legs or relief from leg tiredness.
Give your body a pleasant massage with
Quince Nourishing Body Lotion
, which hydrates your skin with bioactive herbal ingredients. The lotion works wonders for all skin types, but is especially helpful to those with sensitive skin. Vitamin-rich alfalfa brightens your skin while quince seed juice also supplies your skin with vitamins for improvement of appearance. The elasticity of your skin improves with sesame seed oil, and yarrow soothes your skin with rejuvenation. Add to the beauty of your facial features you have received from Eminence with the many body lotions, creams and treatments that will bring you lovely hands, legs and feet.
Eminence Organic Skin Care
uses the forces of nature for splendid
body care.