Five Eye Care Tips for That Look of Love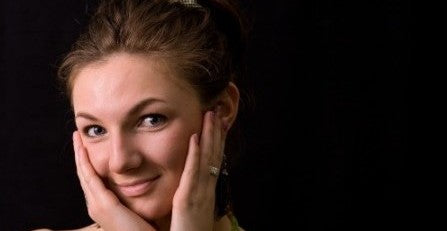 Spark that romance in your life with
eye care tips
for a look of love. While focusing care on all areas of your skin is important, improving the delicate area around your eyes adds to the energy and smoothness of your face. This intensifies that youthful glow to your whole appearance. The skin has a thinner texture surrounding your eyes. The area is also more sensitive and vulnerable to early signs of aging. That's why naturally organic skin care products help reduce lines or wrinkles around the eyes because of the pure ingredients. Here are five eye care tips to maintain that alluring look straight from the eyes.
♥Eye care includes your daily activities and routines. Drinking plenty of water and natural liquids keeps the skin hydrated, especially around your eyes. You can also keep a lot of fruit handy for healthy snacking. This also hydrates your skin. Many fruits, such as apples, pears, peaches and nectarines, contain 80 to 90 percent water! So carry fruit with you when you venture anywhere (in case water or other liquids aren't around) and keep plenty of fruit slices available at home to keep your skin soft and beautiful.
Stay Healthy with Eye Care Tips
♥Avoiding habits that damage skin plays an essential role when following
eye care tips
. The nicotine in cigarettes constricts blood vessels, especially under your eyes, making it difficult for nutrients to absorb into the skin. This interferes with collagen production needed for firmness and support of your skin. Drinking alcohol excessively dries your skin, causing dehydration. Avoid alcoholic drinks or limit their intake. ♥You can use simple methods to protect your eyes while outside. Squinting causes lines and wrinkles over time, but when you're out in the sun, it's often unavoidable. Wear sunglasses whenever possible. Use sunscreen and cosmetics with sun protection around the eye area. Or stay out of the sun as much as possible. ♥Stay active with exercise to keep the skin tissues breathing for healthier skin. Your activities can be as simple as yard work or riding a bike. Make sure you exercise in some ways at least 30 minutes a day on most days of the week. And make sure you get plenty of sleep. This does wonders for your eyes immediately and over time.
Skin Care Choices from Eye Care Tips
♥
Eye care tips
depend strongly on your choice of skin care products. Use organic eye care cream for natural results that work with your skin.
Wild Plum Eye Cream
contains the unique Eminence formula, Biocomplex, which features antioxidants, vitamins and alpha lipoic acid. The naturally occurring substances in alpha lipoic acid help remove dead skin cells to reduce and prevent dry skin for a glowing look.
Eye Care Tips Protect Your Skin for the Look of Love
The fresh aroma from Wild Plum Eye Cream tells you the skin around your eyes will receive natural freshness. Wild plum juice helps to brighten your skin while shea butter moisturizes and hydrates your skin naturally. The green tea and grape oil ingredients contain antioxidants to protect your skin from damage. Reduce the dark circles, lines and wrinkles around your eyes with the simple
eye care tips
and keep your look of love!