Eminence Skincare Will Leave You Gorgeous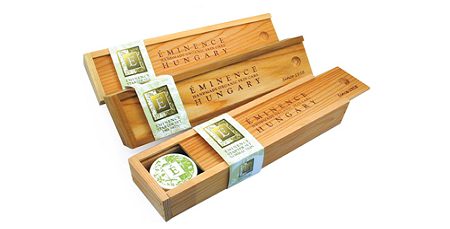 A variety of application techniques to beautify your appearance while keeping your skin free from damage separate Eminence skincare from all other products in the industry. The secret comes from Eminence organics, which involves a traditional technique from Hungary, long known as the spa culture center of the world. The people of Hungary can boast of fabulous facial features because of the farming methods used in producing natural ingredients in skin care products. Eminence was established in
Hungary
more than 50 years ago. It has been harvesting and manufacturing its skin care products the same traditional way, completely within the realm of the natural environment, to bring natural skin care to your face and body.
Eminence Skincare Philosophy
Eminence Organics use only the freshest ingredients from herbs, fruits, plants and vegetables, all of them picked manually and then used for a hand mixing process. The harvesting and manufacturing technique avoids all pesticides, herbicides, chemicals and other harmful materials. Eminence works within nature's ecosystem, leaving along surrounding plant growth and animal life. No animal testing or animal by-products are used for its skin care products. The result is chemical-free, purely natural skin care that keeps you young looking and gorgeous.
Eminence Naseberry Body Lotion
The natural ingredients in
Naseberry Body Lotion
, for example, include oils, fruit and vegetable extract and other plant-based compounds for perfect exfoliating and firming of the skin for all skin types. Your skin absorbs such natural ingredients as glycolic acid from naseberry for fresh looking skin. Key ingredients from carrot reduce fine lines and revitalize your skin. You get natural toning, tightening and support through the moisturizing from calendula oil. Eminence skincare also has an exclusive Biocomplex mixture for many of its products, including the Naseberry lotion. Antioxidants, vitamins and minerals make up the complex formula to improve your skin appearance and reduce wrinkles. Your skin becomes smooth and moisturized from the natural formula. Vitamins A and E nourish the skin, which becomes restored to its original, natural beauty.
Eminence Dry Skin Starter Set
Enhance and nourish your skin naturally with the
Eminence Dry Skin Starter Set
. The set of products heals your skin and help regenerate new skin tissue for rejuvenation. The natural ingredients in Eminence products help rid your skin of imperfections while leaving your natural skin tissue alone for skin renewal. As old dried skin cells vanish from the applications, new and healthy cells continue to grow. This builds up your skin texture and provides you with an improved skin appearance. With the five-piece starter set, which comes in a beautiful handcrafted wooden box, you receive Lemon Cleanser, Blueberry Soy Repair Masque, Naseberry Treatment Cream, Rosehip & Maize Masque and Linden Calendula Treatment Cream. You have the essentials to cleanse, treat, exfoliate and moisturize your skin. The rich nutrients in these natural remedies provide you with instant results. You will be amazed at the rapid improvement as other have discovered. You'll even find you will get compliments on your new looks from friends and family. When you first apply the organic skin care products, you will immediately notice the fresh, natural aromas from lemon, blueberry and other ingredients. Many consumers complement Eminence on this pleasant feature. The pleasant aromas are announcing the improved skin appearance you are about to receive from Eminence skincare.
What's your review on Eminence Organics?