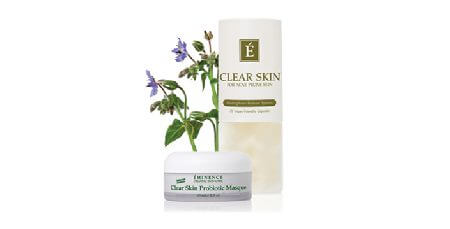 Tea tree oil has incredible abilities to boost the immune system with its antibacterial, antiviral and antifungal properties. While it has been used for many years as a home remedy for everything from burns and wounds to infections and psoriasis, scientific research has backed the effectiveness of tea tree oil to treat acne. In fact, a study reported in the Medical Journal of Australia found that tea tree oil worked just as well on acne as benzoyal peroxide, a common chemical ingredient used in many commercial acne medications. But tea tree oil in
Eminence Organic Skin Care
goes a lot further. Benzoyl peroxide may show some results temporarily on people who use it for acne. However, the chemical can create more problems that increase acne symptoms. Chemicals often used in commercial products leave the skin dry, which only builds up dead and dry skin tissue. This interferes with the skin renewal process and prevents skin tissue from producing new cells that liven and strengthen the skin.
Treating the Skin Naturally With Tea Tree Oil
Natural ingredients, such as tea tree oil, work with your skin without causing disturbances in skin renewal.
Tea tree oil does not give you the false promise with temporary relief from acne breakouts. The organic ingredients keep your skin protected from future skin problems because the oil absorbs naturally within your skin tissue. The glycolic acid and tea tree oil in
Eminence Organic Skin Care
products kill bacteria that cause acne breakouts. Tea tree oil also works as a preventive medication from nature. You can treat your skin problem immediately and keep your skin blemish-free. Tea tree oil works for all skin types to keep your skin smooth and young looking by preventing or eliminating wrinkles and lines.
Eminence Skincare Products Containing Tea Tree Oil
Eminence Tea Tree & Mint Hand Cleanser
sanitizes your skin with tea tree oil and other natural ingredients for moisturized skin that stays germ-free. The cleanser is convenient to use anywhere you happen to be to keep your hands clean and protected. Along with the soothing anti-inflammatory and antiseptic elements of tea tree oil, the product also contains chamomile for skin renewal and balance. You also receive calming effects from vanilla and additional antioxidant and antibacterial benefits from peppermint. Aloe in the cleanser ensures soothing and calm skin.
Eminence Organic Clear Skin Probiotic Cleanser
contains tea tree oil as well as yogurt for exfoliating, moisturizing and nourishment of the skin. Other natural ingredients include cucumber juice for toning and purifying the skin; sweet almond milk for softening; and willow bark extract for soothing and calming. The Biocomplex in the cleanser contains antioxidants to protect your skin from aging. The wonderful massaging effect you get from
Eminence Herbal Recovery Oil
fights off aging skin. All customers benefit from the oil, and it provides special advantages for mature or sensitive skin. The soothing, anti-inflammatory properties of tea tree oil are just one of the splendid oils that enhance and beautify your skin for a radiant complexion. The product also contains olive oil for deep hydrating of the skin. Many people love preparing food with olive oil just because of the way it makes their skin feel. Clary sage oil helps in calming and balancing the oils. Sage leaf extract provides antioxidants for skin rejuvenation and toning. You can always depend on
Eminence Organic Skin Care
for naturally beautiful skin.