Sweet Red Rose Moisturizer Ingredients - Part 2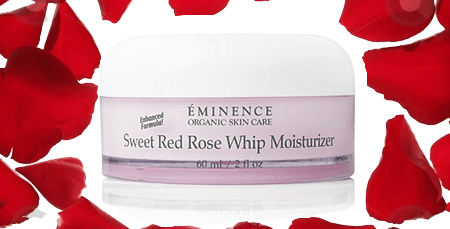 Soothe and repair your dehydrated skin with the nourishing benefits of the Sweet Red Rose Whip moisturizer ingredients made with real rose petals. . Just touch a rose petal to your skin and immediately feel the luxurious and velvety soft texture, no wonder it's the symbol of love and beauty. Don't be fooled by just their spectacular beauty and aromatic scent, roses have been used for centuries because of the therapeutic effect it has the on skin tissues. Roses are especially beneficial when the extract and petals are applied topically to the skin. Unfortunately, many companies use synthetic rose essence in their products to give consumers the feeling they are getting real roses, when in reality synthetic rose essence provides no therapeutic value. Eminence Organic Skin Care uses only the most natural and vitamin-rich hand picked roses in their products such as the Sweet Red Rose Whip Moisturizer and other products in their Rose Collection. You are guaranteed quality ingredients to repair and restore your skin from the inside, out! Benefits of roses are catered to all skin types, but work especially well for dehydrated, dry, sensitive, and rosacea prone skin. Roses have a toning and calming effect on capillaries just below the skins surface, which is why they are good for calming rosacea and irritated skin. - Rosacea is caused by an inflammation in the blood vessels below the skin, which results in a flushed appearance. Rose petals are beneficial in nourishing and moisturizing the top layers of the epidermis while providing antioxidants to combat free radicals – airborne molecules which are linked to premature aging. Rose extract is useful in protecting the outer layer of the epidermis while also enriching and nourishing the deeper layers.
Rosehip Benefits
Rosehips, found in Eminence's Rosehip Tonique, Rosehip & Maize Exfoliating Masque and the Rosehip Moisturizer, are the flowers which have swollen to seeds and are rich in vitamins A, B3, C, D and E. Rosehip also contains bioflavonoids, citric acid, flavonoids, fructose, malic acid, tannins and zinc. The soothing properties of these ingredients will repair your skin by providing it with the essential nutrients it needs to function properly. Such ingredients, as found in the
Sweet Red Rose Whip Moisturizer
, increase the skins ability to maintain moisture and directly improve dehydrated skin, deeply moisturize and nourish the epidermis while assisting in preventing and treating eczema-type inflammations.
Eminence Rose Collection
Eminence Organics is proud to offer an array of products containing these delightful rose derived ingredients. The rose collection offers the following for all users with dehydrated, dry and sensitive skin types as well as those with oily to combination skin:
Sweet Red Rose Cleanser – Creamy milk texture designed to hydrate and soothe
Sweet Red Rose Tonique – Refreshing toner to balance and revitalize dry and dehydrated skin
Rosehip Tonique- Calming toner designed to reduce inflammation and irritation to oily, sensitive and rosacea skin types
Rosehip Whip Moisturizer – light moisturizer to sooth and tone normal to oily and over-reactive sensitive skin types
Sweet Red Rose Whip Moisturizer – soothe and repair the most dehydrated, mature and sensitive skin types
Sweet Red Rose Treatment – Smooth, tone and restore complexion for normal/dry/dehydrated/sensitive skin types.
Shop Rose Collection
here!