Eminence Tinted Moisturizer Reviews Confirm Makeup and Sun Screen in One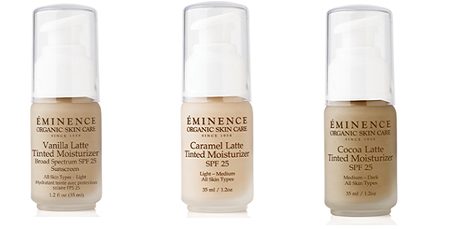 If you haven't yet tried them yourself, take it from the enthusiastic customers in Eminence tinted moisturizer reviews. They praise the "high quality" and immediate effectiveness of
Vanilla Latte Tinted Moisturizer
, Cocoa Latte Tinted Moisturizer and Caramel Latte Tinted Moisturizer. "Creamy and wonderful," says one customer who noticed the incredible difference on her face as soon as she started using the products. "I love this wonderful product," another satisfied user states. The moisturizers have become her favorite products and that's saying a lot, because the review hails Eminence for making "the best" skin care products whether using makeup or sun screen from the skin care manufacture that leads the world in organic products.
Eminence organic skin care
provides you skin with refreshing, nourishing and invigorating ingredients from nature. Your skin is protected naturally from sun or environmental damage while your appearance soon develops a charming, natural glow from healthy substances in the products. Harvested and manufactured through completely natural means, with no chemicals or pesticides used during the entire process, the ingredients from Eminence skin care products provide natural moisturizing that works with your skin. You skin tissue does not have to deal with chemicals or artificial ingredients from other skin care products. It is able to breathe and grow naturally for beautiful, glowing skin. Let nature take its course through natural skin care. That's what customers want readers to know in their Eminence tinted moisturizer reviews.
Eminence Tinted Moisturizer Reviews
The tinted moisturizers contain rich amounts of vitamin E and aloe vera to soothe, soften and nourish your skin. You also get strong protection from UV rays to avoid damage to your skin from sun exposure. Shea butter moisturizes the skin for improved appearance. Jojoba and corn germ oil penetrate with moisturizing effects deep into the skin. Your skin becomes strengthened and firmed through the bioflavonoids from linden tea. The SPF 25 in the tinted moisturizers blocks harmful rays, and also provides antioxidant-rich ingredients. Antioxidants play a key role in many Eminence products because they fight free radicals that attempt to damage your skin cells. Free radicals come from environmental pollutants and other hazardous substances. Antioxidants in the moisturizers combat these foreign invaders for ultimate skin protection from damage. The whole process brings rejuvenation to your skin from sun protection and boosting of your natural skin tissues.
Colors: Vanilla Latte Tinted Moisturizer, Cocoa Latte Tinted Moisturizer, Caramel Latte Tinted Moisturizer
Aside from protecting your skin for years to come, the tinted moisturizers make you look great! No matter what your skin type, Eminence tinted moisturizers enhance your skin at anytime no matter where you are, and you can easily apply the moisturizer whether you are indoors and decide to step outside. The beauty of Eminence organic skin care involves the ease of application as well as the way you feel as soon as you apply the products. Customers are amazed at the wonderful sensations that overcome them as soon as they apply the moisturizers. That tells them that the products are already providing the skin protection and improvement they desire. Try the moisturizers and see what happens. You'll notice the feeling immediately and a healthy glow soon afterwards. Take a look at some of the Eminence tinted moisturizer reviews, and then do yourself and your skin a favor with your own experience.