Solutions for Aging Skin to Stay Forever Young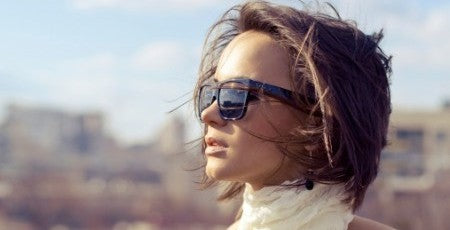 You don't have to worry about
aging skin
when simple lifestyle changes and organic solutions are at your service. Preventing the signs of aging is easier than trying to turn back the clock later – so do what you can to stay young looking. Here are some ways to prevent early aging signs. ♦ Avoid sun damage. The sun's ultraviolet rays penetrate and damage the elasticity of your skin. As the elasticity of your skin diminishes, wrinkles develop. UV rays also cause the age spots that form from excessive melanin in areas of your skin that are exposed to the sun. Always wear sunscreen with an SPF of 15 or higher. Wear sunglasses so you don't squint and cause crow's feet wrinkles. ♦ Don't smoke. It causes wrinkles sooner, and those wrinkles will be deeper. Smoking causes decreased blood flow to your face and exposure to toxic chemicals in the smoke. Often, smokers squint if smoke gets in the eyes and squinting causes wrinkles.
Nutrients Feed Your Body and Skin to Prevent Aging Skin
♦ Avoid excessive drinking. Too much alcohol is bad for your skin and your health. People that drink heavily also tend not to eat a healthy diet, so they don't get the nutrients the skin and the whole body needs to prevent
aging skin
. ♦ Eat a diet that is good for your skin. Avoid junk food and focus on foods high in antioxidants like vitamins A, C and E. Eat plenty of fresh fruits and vegetables, nuts and seeds to get the benefits of a healthy diet for younger looking skin. ♦ Stay hydrated. After sun damage, dehydration is the second most common reason for wrinkles. If you feel thirsty, you are already dehydrated. Keep your skin moist and elastic with plenty of water! ♦ Reduce stress. Stress affects your whole body and has significant impact on your general health. Stress releases hormones like cortisol that destroy the muscular tissue beneath your skin to result in the appearance of thinner skin, wrinkles and aging. ♦ Exercise regularly. Get aerobic exercise, even brisk walking, at least 30 minutes at a time, three times a week. Your heart and your whole body will thank you! Regular exercise increases the blood circulation throughout your body, and the increased circulation to your face will keep your skin tone healthy and glowing.
Use the Right Products to Avoid Aging Skin
♦ Use good,
organic products
on your skin. Why do all the other steps and then use products that can cause damage and
aging skin
? Instead, try the Eminence Youth Shield Starter Set to get the products you need to nourish, protect and hydrate your skin. The Youth Shield Starter Set comes with four products, all made with red currant, a proven and powerful antioxidant. Red currant is a great source for vitamins A, B, C and E which your skin needs to fight the aging process. Red currant promotes healing and has long been used for skin conditions such as eczema and acne and on wounds and burns.
Fight Aging Skin with the Perfect Organic Skin Care Solution
The
Youth Shield Starter Set
includes Red Currant Exfoliating, Cleanser, Red Currant Rapid Infusion Masque, Red Currant Balancing Concentrate, and Red Currant Protective Moisturizer with antioxidants, minerals and vitamins that deliver an anti-aging boost to your skin. You can fight
aging skin
and keep your skin youthful and sexy by following these tips and using good, organic skin care products.