Facing the T-Zone and Acne-Prone Skin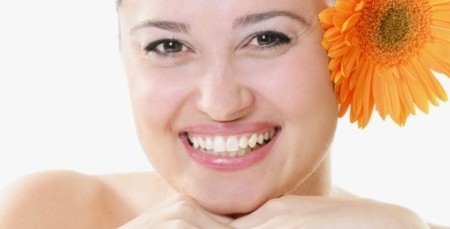 When your skin secretes too much sebum it clogs the pores and leads to the breakouts of
acne-prone skin
. The best thing you can do for your face is to balance areas so there are no spots that are excessively oily or overly dry. Instead, each is hydrated and glowing. The T-Zone is the "T" formed by the forehead, nose and chin areas of your face. Your T-Zone tends to be oilier than the other areas of your face because of too much sebum secretion. You may face an oily T-Zone only in the summer or it might be a problem all year around. Either way, here are a few tips you can use to control excess sebum production and bring your whole face into beautiful balance. Cleanse your skin regularly. You need a gentle cleanser that will remove the excess oil and other impurities but one that isn't so strong as to damage your skin. Don't over-wash your face. Twice a day is usually fine.
Clear Up Acne-Prone Skin for a Healthy Glow
Use a toner after you cleanse. It closes your pores and helps your skin "face the day" with a healthy glow. Don't use an alcohol based toner – it can dry your skin and cause more oil production, especially for
acne-prone skin
. Use a moisturizer, no matter how oily your skin is. A light moisturizer keeps your skin hydrated and healthy. If your skin is dry or a combination of dry and normal, use one a little heavier for deeper hydration. Don't use a moisturizer that has a petroleum base or one that contains mineral oils because they will add oil to your skin, causing clogged pores and possibly blemishes and blackheads. Exfoliate each week. The dead cells of your skin block the pores of your face and cause pimples and blackheads, so it's important to exfoliate regularly. Removing the dead cells and exposing new healthy skin will help to control the excess oil production and keep your skin
smooth and glowing
. Use a masque especially for oily skin to help your face balance the oil production. After cleansing your skin, apply the masque to the T-Zone and leave it for 15 minutes. Then rinse with warm water, pat dry and apply toner and moisturizer.
Make the Problem of Acne-Prone Skin a Thing of the Past
Eminence offers
Balancing Moisturizer Duo
for the problem of an oily T-Zone and combination skin to treat
acne-prone skin
. The Duo is made up of Green Tea Mattifier and Pomelo Cheek Hydrator. This combination of products brings the texture and tone of your skin back to a healthy, youthful appearance. Your skin will be thoroughly hydrated without being weighed down with a heavy product. Skin will be nourished with antioxidants to protect it from free radicals and stimulated to repair the appearance of fine lines and wrinkles. As it brings your skin into a healthy balance, sebum production will be reduced so that acne, blackheads and blemishes don't develop and the pore size will be refined and minimized. The overall appearance of your skin will be smooth and clear, with hydrated, balanced skin. That oily T-Zone of
acne-prone skin
will be a thing of the past!