Oily Skin Products That Last Longer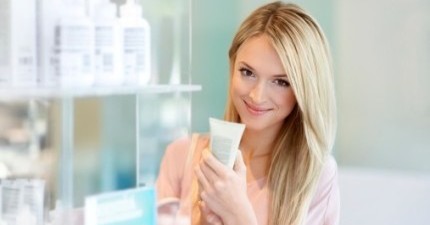 Let's give thanks for a clear complexion using
oily skin products
. Some skin care applications promise an appearance free of blemishes, but organic products offer lasting results throughout the wonderful season. The holidays usually mean many get-togethers, parties and family occasions. Who needs the sudden appearance of an unfriendly mark or blemish? Your complexion can stay free from such unexpected problems, even if you have oily skin. If you have problem skin, you probably already tried a variety of solutions. The problem with some of these items is that they don't get down to the core of the issue. Acne medications and cosmetics, for example, contain chemicals that dry out your skin. You think you're finally rid of your blemishes, but then they pop up again. That's because the chemicals in these applications interrupt the skin renewal process by drying it out too much.
Organic Ingredients in Oily Skin Products Keep Your Skin Moisturized
Organic skin care deals with the basic problems by blending into your skin tissue. Your skin cells welcome these additions because they are natural.
You don't suffer from the many breakouts later on as with commercial products that contain synthetic ingredients. Chemicals to dry out your skin make the surface of your skin excessively dry, so new skin cells have difficulty developing.
Oily skin products
with purely organic ingredients keep your skin moisturized while also combating the causes of breakouts and blemishes. Your skin stays protected for a longer period of time because nature is at work. Your skin cells and skin tissues happily get along with the pure, all-natural substances from
Eminence Organic Skin Care
. These products provide the proper balancing for softness, moisturizing and tightening of the skin without leaving an unnatural residue for a clear complexion and soft, youthful-looking skin that lasts long after application. You might feel satisfied briefly when using a commercial product from the store that appears to get rid of those blemishes or pimples. But it doesn't usually last. Pretty soon you see the same problems popping up when you look in the mirror. Instead, treat yourself and your skin, to organic solutions that have a gentle effect on your skin for an appearance you and everyone else will adore through the holidays. Incredibly, you'll find your skin stays smooth and your appearance becomes attractive without any more worries about those unexpected intrusions on your skin. It will be your skin's way of giving thanks.
Oily Skin Products Bring Satisfying Results
Choose
oily skin products
from Eminence that bring long-lasting and satisfying results.
Herbal Spot Serum
, a high potency gel, does the trick for oily and problem skin. The ingredients include antioxidants from anise to protect your skin from damage. Vitamin C-rich rosehip and the unique Biocomplex formula with vitamins and nutrients also supply your skin tissues with antioxidants. Horsetail softens your skin while walnut leaves in the product help to gently tighten your skin. Customers rave about Herbal Spot Serum for its effectiveness in getting rid of blemishes without leaving your skin dry. You maintain that natural moisture and beauty for an improved complexion. Remember that when choosing
oily skin products
.