Eminence Stone Crop Products for All Your Skin's Needs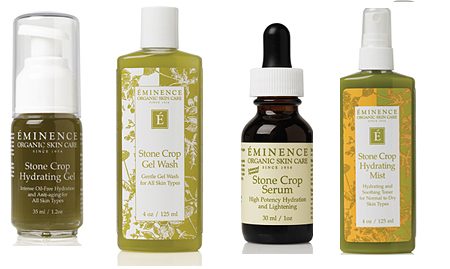 Eminence Organic Skin Care
has a multidude of products such as
Stone Crop Hydrating Gel, Stone Crop Whip Moisturizer
, that contain the succulent plant known as stone crop. With it's abundant skin care benefits, and the lovely aromatic scent, the
Stone Crop Collection
products have been a staple in many skin care regimens. Stone crop has been shown to hydrate, lighten, regenerate and even out skin complexions of all skin types.
Benefits of Eminence Organics Stone Crop Products
With consistent use,
Stone Crop
has been shown to lighten sun damaged and hyperpigmented skin while evening out skin tones. The results have been incredible, according to many users, who claim 'their skin has never looked better since using
Eminence's Stone Crop
products with just 3 weeks of use!' Whether your skin has dark spots or unevenness related to pregnancy, sun damage, age, or anything in between, the effects of
Stone Crop
products have substantially lightened these pigmented spots. Along with lightening,
Stone Crop
also contains antioxidants that fight against free radicals to combat premature aging.
Named Number 1 Bestseller: Eminence Stone Crop Gel Wash
The properties of
Stone Crop
are very similar to that of the Aloe Plant. With it's ability to hydrate and repair, your skin will instantly look healthier and more youthful, and feel soft to the touch while firming and toning the skin which will reduce any visible signs of aging. The most popular products from
Eminence Organic Skin
come from the
Stone Crop
collection. Named number 1 bestseller from
Eminence, Stone Crop Gel Wash
tops the list because of its deeply purifying and rehydrating feel that leaves skin glowing and fresh. The
Stone Crop Hydrating Mist
makes the bestseller list at #4. Often referred to as a 'liquid moisturizer' this hydrating mist gives stressed and irritated skin a replenishment of moisture with just a few spritz. At number 6 on the best selling list is
Eminence Organics Stone Crop Whip Moisturizer
which is a lightweight but deeply hydrating moisturizer that protects the skin from harsh external factors as well as giving the skin a smooth and radiant appearance. Other honorable mentions, the
Stone Crop Hydrating Gel
which is a lightweight gel moisturizer which is perfect for day times and during the summer months. Goes on light and immediately absorbed, this hydrating gel is a top contender on our list of best products from
Eminence
. We also love the
Stone Crop Body Lotion
which not only smells delicious, but instantly moisturizes the skin without leaving a heavy or sticky feeling. Whether you're looking for a product that is deeply hydrating, pigment lightening, or products for anti aging, sensitive skin, be sure to look into
Eminence Organic Skin Care's Stone Crop
products. You (and your skin!) will not be disappointed!