Citrus and Kale Masque for a Real Halloween Treat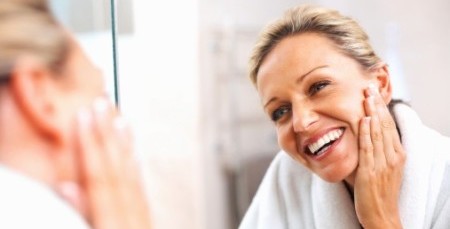 Don't trick folks on Halloween when you can treat yourself to a
citrus and kale masque
. You'll be the main attraction of any party with brighter, firmer, younger-looking skin, thanks to the vitamin combination in this amazing skin care powerhouse. After cleansing and applying just a small amount of
Citrus & Kale Potent C+E Masque
to your face, and leaving it on for about 10 to 15 minutes, you'll rinse and pat dry for skin that has great texture, softness and smoothness. Most of all, you notice an incredibly clarified and evened complexion. The citrus extracts and the leafy kale along with spinach and broccoli sprout ingredients work to brighten and lighten dark spots while balancing oil production and improving skin elasticity. You'll see a dramatic reduction in fine lines and wrinkles because the masque is rich in vitamins C and E to fight skin damage and aging skin.
Prevent Premature Aging with a Citrus and Kale Masque
In fact, research shows an astounding 47-percent reduction in free radical damage that causes aging in only three hours using this potent masque!
The vitamin C from citrus fruit extracts rejuvenates the skin through free-radical fighting antioxidants while refreshing and moisturizing your skin. Citrus fruits also contain exfoliating properties and act as an astringent to cleanse and unclog pores for fighting breakouts and acne. A
citrus and kale masque
prevents premature aging and keeps you younger looking for a long time. Citrus extracts also contain vitamin E for more antioxidants that treat oily skin. Kale contains a healthy dose of vitamin C to fight inflammation. Kale also brings you vitamins A and K to treat dry and flaky skin, repairing damage to skin layers and even to help remove dark circles around the eyes. The vitamin combination gives you an immediate youthful glow. The benefits of a facial mask cleanses deeply into the pores to clear away dead skin cells that can clog the pores, causing blemishes and imperfections. Clear, refined pores mean younger looking skin. A masque also provides your skin with moisture and hydration to soften your skin tissues and boost your skin elasticity. This makes it easier for you to apply cosmetics. Watch fine lines, brown spots and wrinkles disappear with a facial masque from
Eminence organic skin care
. After you apply the masque, you will instantly notice the difference and realize why research has shown the reduction rate in free radical damage. You will feel that much younger!
Miracles Happen with a Citrus and Kale Masque
A
citrus and kale masque
also gives you even skin tone. It even helps reduce the dark spots you may experience from hyperpigmentation. The masque increases sweat gland secretion to enhance the oxygen going into your skin layers. You'll soon find you have firmer skin from the masque. The tighter, fresher skin will make you happy just looking in the mirror. Loose skin will no longer be a problem. To top it off, you'll feel so much more relaxed when you apply the masque. You begin to feel the stress disappear while the ingredients boost your skin tissues from the miracles taking place with a
citrus and kale masque
.