Anti-Aging 101: Foods and Cosmetics for Youthful Skin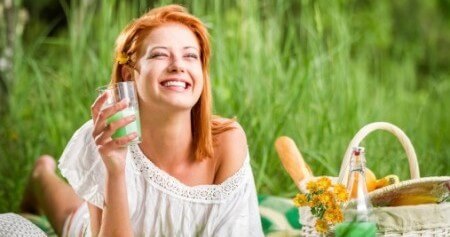 When it comes to
youthful skin
, you are what you eat and put on your face or body. Eating organic foods contributes to your health to bring on a lively glow. The nutrients inside naturally result in a vivacious appearance. Topical applications play a similar role. Skin care products enter your tissues and bloodstream to enhance your cells and organs with essential nutrients. It stands to reason that combining foods and organic cosmetics doubles your efforts in obtaining the natural beauty your body deserves. When you think about a healthy lifestyle, consider all factors involved in your physical and emotional well-being. That includes enjoyable physical activity, nutritious eating habits and natural skin care.
Avoid Stress in Everyday Life for Youthful Skin
First, your pathway to a wonderful complexion and appearance begins with feeling good — and that means exercise. It's doesn't have to be anything strenuous. In fact, all you need is about 30 minutes of physical activity a day on most days of the week. Physical activity can include something as simple as working in the garden, riding a bike or enjoying your favorite sport. Exercise helps reduce stress, which can lead to breakouts, skin dehydration or dryness, lines and wrinkles. To achieve
youthful skin
, reduce the stress in your life with some exercise because stress can't be completely avoided. Choose anti-aging foods. It's tempting to treat yourself to sugary snacks for comfort, but too much sweetness in your diet can disrupt your natural skin process. Sugar breaks down in your body to interfere with the production of collagen, which supports and firms your skin tissues. When collagen build-up falls apart, it damages skin elasticity, leading to lines and wrinkles. This detrimental process also occurs with your consumption of other simple carbohydrates, such as processed foods, even breads and pasta. Instead, eat whole-wheat bread, pasta and rice. Include plenty of leafy green vegetables on your plate for anti-aging meals. Berries, fish and kale should become a regular part of a diet that focuses on organic eating.
Youthful Skin from Natural Ingredients in Organic Skin Care
Now that you've taken a healthy approach to youthful looks through exercise and diet, the next step continues with
Eminence organic skin care
that hydrates and invigorates your skin. The antioxidant-rich nutrients in the Eminence skin care line work with your body for improved skin elasticity and a young-looking appearance. The Eminence red currant collection features the exclusive Youth Shield Antioxidant Complex with red currant, elderflower and magnolia bark to fight free radicals that attempt to damage your skin.
Red Currant Rapid Infusion Masque
helps normal, combination and oily skin with effective ingredients from lemon, passion fruit, grape and pineapple. Just the thought of these natural ingredients can bring
youthful skin
to your face and body along with exercise and diet to rev up your anti-aging regimen.