Reward Your Skin with Eminence Organics Samples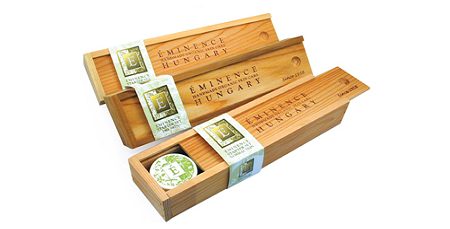 You can't go wrong with
Eminence organics samples
, especially when you want to test out something new or just give organic skin care a try — which will keep you coming back for more products! Samples are an inexpensive way of proving to yourself and your skin just how the immediate results provide you with youthful-looking, glowing skin. Once you're convinced or find something that fits your skin type perfectly, you can shop for skin care, bath & body, makeup, collection or gift products. You might also come across
Eminence free samples
when purchasing orders. Welcome to the organic skin care family that will be part of your beauty care supply for a lifetime!
Eminence Organics Samples Offer Inexpensive Shopping
It's easy to get started when checking out some of the products you've been interested in. You can get Eminence Organics body care samples for as little as $2. Try out the Lychee & Chestnut Leg Firming Treatment for tired legs to increase circulation. The firming treatment also reduces the appearance of varicose veins with soothing moisturizing effects. Lychee extract contains vitamins, proteins and minerals that promote the health of your skin. Discover skin toning and tightening through the horse chestnut extract. Taking advantage of
Eminence organics samples
also gives you the opportunity to try the unique LegActif formula, which includes a blend of herbs, vitamins and antioxidants for toning and revitalization of your skin. You might have heard or read about the Eminence Argan Stem Cell Complex with natural plant sources to soften, smooth and moisturize your skin. This formula adds a special overnight treatment with Monoi Age Corrective Night Body Cream for Face and Neck. Monoi, a Tahitian oil, is known to firm and improve the appearance of the skin with hydration. The night cream heals your skin tissues as your body rests, allowing natural ingredients to repair and improve the skin cells because of any damage caused during an active day. Samples provide you with a good way to enjoy a bit of the Eminence Age Corrective Night Collection.
Try Out Eminence Organics Samples in Lotions or Scrubs
Sample the popular Stone Crop Body Lotion, which reverses sun-damaged or uneven skin. Stone crop reduces age spots and skin blotches with hydrating and tightening. A touch of lemon tones and refreshes your skin while bioflavonoids enrich your skin with natural moisture. The Blueberry Soy Sugar Scrub is a nice way to treat your body to a nourishing, antioxidant-rich boost from
Eminence organics samples
. The product includes antioxidants from blueberry and green tea. Avocado and sunflower oils moisturize your skin with nutrients.
Simple Choices from Eminence Organics Samples
Those are just a few ideas. You can search the sample section yourself for the wide variety of offers, including
Eminence free samples
. Naturally, you receive more benefits from the tried and true applications of
Eminence skin care
products, as satisfied customers will tell you. Sampling your pleasures will convince you of what you always suspected and expected.
Eminence organics samples
bring you simple choices that will make you a believer and regular user of the world's finest organic skin care.