Revamp Your Skin Care Routine for the Fall Season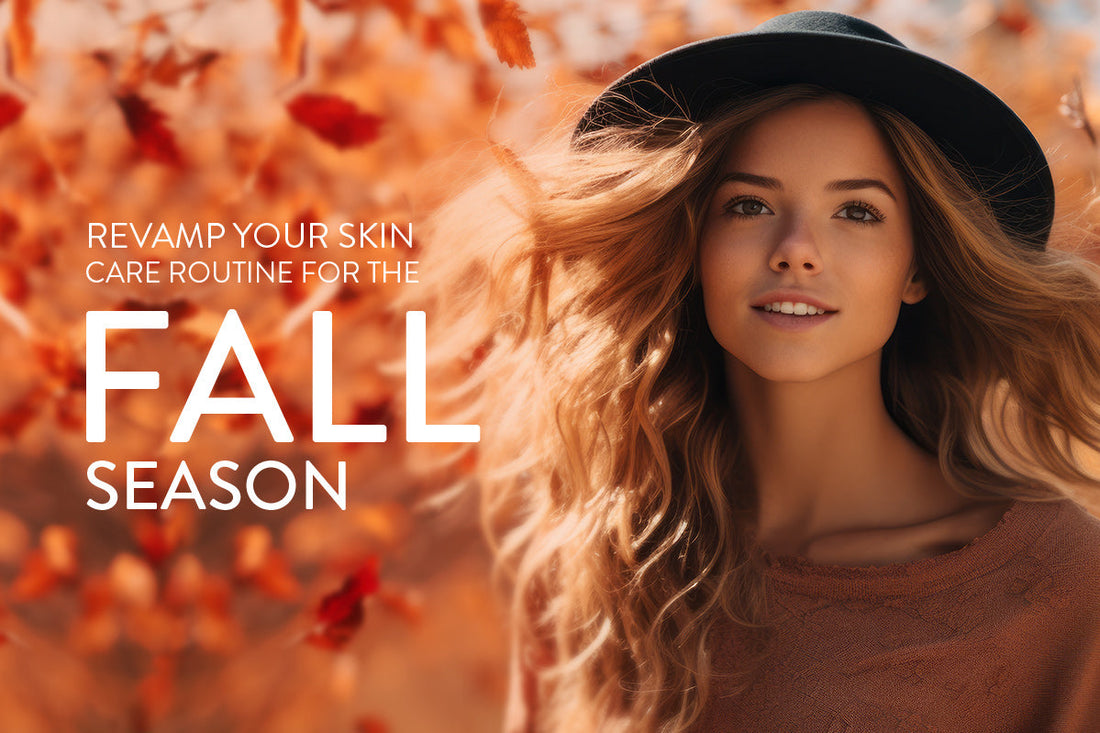 As the dog summer heat gives way to the crisp embrace of fall, it's time to adjust your skincare routine accordingly. Much like you adapt to shifting seasons by swapping out your wardrobe, your skin requires a transition plan too. With the onset of cooler weather, it's essential to cater to your skin's evolving needs and keep it glowing from Halloween to Thanksgiving. Here's your comprehensive guide to fall skincare.
Understanding the Summer-to-Fall Skin Care Transition
The seasonal shift from summer to fall brings unique challenges for your skin. As the temperature drops, so does the moisture content in the air, leaving your skin parched and in need of extra care. Additionally, your skin might be recovering from the sun's summer onslaught, with effects from poolside lounging and outdoor adventures. It's time to provide your skin with the care it deserves.
Fall Skin Care Tips
Opt for a Richer Moisturizer: Say goodbye to your lightweight summer moisturizer and welcome a heavier, nourishing cream into your routine. Look for products infused with hydrating ingredients like ceramides and Hyaluronic Acid. These ingredients will help strengthen your skin's barrier and lock in precious moisture.
- IMAGE Skincare BIOME+ Smoothing Cloud Creme - an advanced and luxurious moisturizer designed to deliver intense hydration while promoting a smoother and firmer complexion. 
- Eminence Organics Firm Skin Acai Moisturizer - plumps and rejuvenates to minimize the appearance of fine lines and wrinkles while restoring moisture to the skin.


* Harness the Power of Amino Acids: Amino acids are the foundational building blocks of your skin's proteins. They are pivotal in repairing damage, stimulating collagen production, and maintaining skin hydration. Products like the Eminence Yam & Pumpkin Enzyme Masque, enriched with a blend of amino acids, can increase hydration and visibly reduce redness, offering the perfect solution for cooler weather.
- Eminence Organics Yam & Pumpkin Enzyme Masque - removes dead skin cells, reduces the appearance of pigmentation, fine lines, and sun damage.


* Moderate Exfoliation and Retinol Use: While it's essential to retain moisture during the fall, reconsider the frequency of exfoliation and the use of ingredients like Retinol that can sometimes exacerbate dry or sensitive skin. If you have well-hydrated and tolerant skin, this season might be an excellent time to slowly introduce Retinol into your regimen.
- Eminence Bakuchiol + Niacinamide Moisturizer - Replenish your skin's innate hydration levels using our gel cream moisturizer, skillfully crafted with the exclusive blend of bakuchiol, a gentle retinol alternative, and niacinamide.
- PCA Intensive Brightening Treatment - This nightly treatment is formulated with pure retinol, resveratrol, and niacinamide to promote a healthy glow while improving discoloration. 


* Don't Forget Daily Sunscreen: Despite the reduced intensity of the sun's UV rays, fall doesn't exempt you from sunscreen duty. UVB rays can still harm your skin, even when the sun isn't blazing. Adhere to your summer sunscreen routine—apply a broad-spectrum sunscreen 15 minutes before stepping outside, and reapply every two hours to exposed areas. The Skin Cancer Foundation recommends using one ounce of sunscreen for your entire body.
- Eminence Radiant Protection SPF Fluid SPF30 - This SPF solution not only provides broad-spectrum SPF 30 protection for combination to dry skin but also imparts a luxurious, hydrating sensation with a radiant, dewy finish. Experience ageless beauty with each application.
- IMAGE | PREVENTION + Daily Hydrating Moisturizer SPF 30 -  This hydrating SPF is formulated with Digital Aging Defense, it helps to protect against blue light from phones, devices, and the sun.


* Daily Habits for Healthy Skin: Combat the dry indoor air that often accompanies fall by using a humidifier. This helps restore your skin's outer layer and maintain its suppleness. Remember to moisturize your body and hands frequently, as they can also suffer from dryness in cooler weather.

Incorporate these tips into your fall skincare routine, and think of it as an opportunity to repair and fortify your skin's protective barrier for the impending colder months. As you embark on autumn adventures like apple picking and hayrides, you'll do so with radiant, healthy skin.

Buy Eminence Organics Bakuchiol + Niacinamide Moisturizer and Radiant Protection SPF Fluid and save 10%. USE CODE: BAKUCHIOL10