Reawaken Your Eyes with an Eminence Eye Cream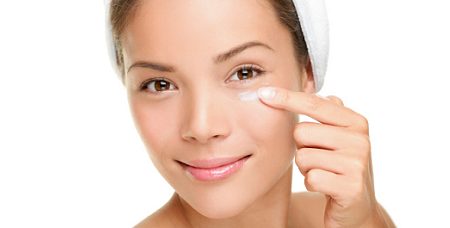 Your eyes are the window to your soul – as well as the focal point of facial splendor that beautifies your appearance from
Eminence Organic Skin Care
eye creams. The area around your eyes reveals important information about you and the way you take care of yourself. Through no fault of your own, bags, wrinkles, age spots and dark circles can be misinterpreted by others as everything from being older than you are to being overly tired or restless. Those dark circles that seem difficult to get rid of might make others think you stay out too late, acting irresponsibly. You can look unhealthy. The unwanted features around your eyes also increase signs of aging on your face. The skin beneath the eye area becomes very delicate early in life. You can start seeing lines, wrinkles and other skin imperfections when you are in your 20s!
The delicate skin under your eyes begins losing its elasticity.
Eye creams provide you with healthy ammunition to reverse the effects of aging and reduce or eliminate skin defects that pop up around the eyes.
The Importance of Eye Creams
Eye creams vary in the time frame they treat skin problems or the best time to use the cream, such as in day creams or night creams. Many commercial products promise results in days, but the benefits may not have long-term effects on that delicate skin area. Eliminating bags and dark circles under the eyes provides you with major relief and better looking eyes for the time being. What you really need are the all-natural ingredients in the eye cream line from
Eminence Organic Skin Care.
The pure substances in
Eminence
creams and other products work in harmony with your skin tissue to improve your complexion for all time. The skin under your eyes will appear ageless as the organic ingredients stimulate properties in the skin to banish wrinkles, lines, circles and age spots. Organic eye care strengthens the delicate tissue under your eyes for a return to that fabulous, youthful look! Your eyes suddenly become the window to your beauty!
Eminence Organics Eye Cream
Eminence Organics
Wild Plum Eye Cream
restores brightness to your eyes and energizes the look on your face by targeting and repairing your delicate skin features. The eye cream contains vitamins and antioxidants to combat skin damage, reducing lines, wrinkles, puffiness and redness. The natural ingredients heal broken capillaries to repair the skin tissue. Vitamin K, for example, decreases inflammation and clears away dark circles. Wild plum juice calms and soothes your skin for a fresh, younger look. That tired look disappears and you become revitalized. People start looking at you as young and energetic. Soon after using
Wild Plum Eye Cream
, just wait for the compliments! Eminence Organics
Herbal Eye Contour Cream
erases wrinkles and provides contouring for normal, mature and fatigued skin. The eye cream contains antioxidants, vitamins and minerals from bioflavonoids and the exclusive Biocomplex combination, which attacks free radicals that cause skin damage while nourishing and enriching your skin texture. You receive the anti-wrinkle benefits from such herbal ingredients as St. John's wort and jasmine flower petal when using Herbal Eye Contour Cream. Try the
Bearberry Eye Repair Cream
, which hydrates and nourishes the delicate contour area, or the
Lavender Age Corrective Night Eye Cream
with Argan Stem Cell Complex that naturally revives the delicate eye area. Eminence Organic Skin Care ensures your eyes become the window of your soul and beauty through its eye care line.