Oil-Free Moisturizer Hydrates Your Skin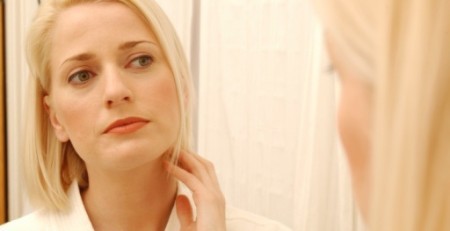 So how can you have soft skin with an
oil-free moisturizer
? Wouldn't you need some oil support to hydrate your skin? The good news for oily skin types is that you can moisturize your skin with organic, oil-free skin balance. If excess oil causes concerns about moisturizing your skin, remember that nature intended your skin to have moisture. You might think your oily skin has enough moisturizing on its own. This leads you to try to get rid of the excess oil by drying out your skin. This doesn't work and only disrupts the skin's renewal and regeneration process. Oily skin can trigger breakouts, blemishes and other symptoms of acne. The key to tackling these disorders is bringing balance back to your skin.
Eminence Organic Skin Care
products use all-natural ingredients that restore this balance because they penetrate your skin with substances your body needs.
A Good Time for Oil-Free Moisturizer
Many people with oily skin seek out blemish and acne medications that promote the dryness of your skin. Popular commercial brands often use chemicals that seem to get rid of your problem. But guess what? Your blemishes and acne symptoms always return. The drying out process causes flakiness on your skin and stays on the surface. This would be a good time for an
oil-free moisturizer
. However, using items that dry your skin has a negative effect. As healthy skin cells try to renew your skin tissue, the dead skin cells prevent it. Pimples once again develop because the skin's normal routine has been disrupted. Overly dried skin also leaves acne scars behind. Your skin just isn't working normally and the blemishes build up from the debris on your skin surface. Drying out pimples and breakouts appears to do the trick in the beginning, but you're only adding to the problem. Your skin always needs a proper balance with necessary oil production. It's not the oil that causes your problems; it's the excess oil that results in skin disorders. Organic skin care products provide the balance of just enough oil to boost your skin cells and keep your skin smooth, soft and free from breakouts. It may sound logical that you need to get rid of the oil in your skin, even if you have normal or combination skin with oily areas. But revitalized skin requires the ingredients nature intended. Maintain a youthful and beautiful glow while getting rid of excess oil with proper balancing.
Oil-Free Moisturizer Balances with Nutrients
Oily, normal and combination skin types benefit significantly from the
oil-free moisturizer
in
Sugar Plum Oil-Free Revitalizer
. The plum nectar feeds your skin with that balance with its rich amounts of phyto-nutrients. Eminence customers rave about the super light and oil-free application that also moisturizes their skin. The product tones, hydrates and supports the skin without oil. This leaves the natural amount of oil in your skin without drying it completely from the sage and watercress ingredients. The antioxidants in green tea also combat past and future skin damage. You will protect your skin from lines and wrinkles through alpha lipoic acid and vitamins. You can have soft skin and oil support with an
oil-free moisturizer
.