Moisturize Your Skin as Your Body Rests With New Argan Stem Cell Complex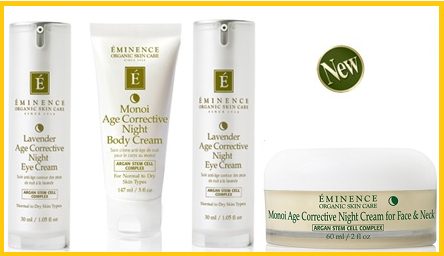 The ideal time to treat your skin with anti-aging remedies is when your body is at rest, a perfect opportunity to benefit from the Age Corrective Night Collection with Eminence Organic Skin Care. Included in this revolutionary collection are the
Monoi Age Corrective Night Cream
for Face & Neck and the
Monoi Age Corrective Night Body Cream
. The naturally rich anti-aging ingredients in these creams rejuvenate your appearance overnight as you awake to a vibrant glow and young looking skin!
The Benefits of Eminence Night Cream
The hydrating properties of the night creams work magic on your skin because your body rests in a recovery mode as you sleep. This is your body's way of repairing any damage you might have sustained during the day's activities. The fragrant Tahitian oils in monoi hydrate deep into your skin during the night to firm your skin's appearance. When your body rests, your skin lowers its moisture barrier for repair. This allows the active ingredients in organic night creams to penetrate deep into the layers of your skin for a better access to combat any signs of aging effects acquired during the day. It's a perfect opportunity to reduce and banish those lines and wrinkles! The
Age Corrective Night Cream Collection
also contains ingredients that soothe and calm your skin. The exclusive
Argan Stem Cell Complex
from
Eminence Organic Skin Care
has been shown in clinical studies to reduce lines, wrinkles and other aging signs within weeks with its natural anti-aging substances. The fruit and seeds from the argan tree aid your skin texture with natural fatty acids to fight free radicals and prevent skin damage. Scientists have cleverly developed healthy skin care products for Eminence by extracting the natural ingredients from argan for anti-aging treatment. Research has found that the skin's regeneration process and skin density improve in less than two months from the Argan Stem Cell Complex. Tests also reveal lines and wrinkles disappear in that time!
Argan Stem Cell Products from Eminence Organics
Enjoy your night of sleep while the active ingredients from
Eminence
enhance your skin appearance with
Monoi Age Corrective Night Cream
for Face & Neck. The moisturizing and hydration work effectively for normal, dry and mature skin types. Aside from the healing powers of monoi and
Argan Stem Cell Complex
, the night cream also features argan oil, which softens and moisturizes the skin while providing your body with antioxidants for skin damage protection. Grape seed oil also contains valuable antioxidants. The night cream provides your skin with moisturizing, hydration and revitalization from such natural substances as evening primrose oil, jojoba oil and shea butter. The same powerful and healthy ingredients also pack the Monoi Age Corrective Night Body Cream for all skin types, especially mature. The deep hydrating action with the night body cream contains additional hyaluronic acid to smooth and plump your skin with ingredients from the marshmallow plant. Let nature take its course on your skin with organic ingredients ready to return a youthful, lively appearance to your features. And do this while you sleep, the best time for your body and skin to grace you with ageless beauty!
Eminence Organic Skin Care
assures you of a good night's
beauty sleep.