Lift Your Skin With Eminence Detox Collection Tube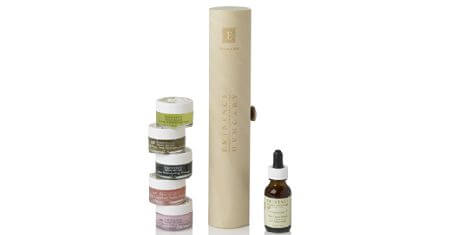 Detoxify and instantly lift your skin with the products found in the
Eminence Detox Collection Tub
e. Featuring the best sellers of Eminence Organic Skin Care, this travel-size kit is the surest way to fight aging and visibly even out your skin tone. The most rejuvenating of all the starter sets on the market, this detox tube is perfect for all skin types. If you're not familiar with
Eminence Organic Skin Care
, the
Detox Collection Tube
will allow you to sample some of the best products from Eminence's collection all at once. Try one or try them all, but we know you will be hooked once you sample all the delicious smelling and highly active ingredients that will leave you (and your skin!) wanting more!
What's In the Eminence Detox Collection Tube
For the cleanser, this kit contains the
Citrus Exfoliating Wash
, a burst of citrus will small micro-exfoliating beads that with slough off dead skin to reveal fresh new and youthful looking skin. The astringent properties in the citrus will instantly tighten pores while removing impurities from under the skin. Follow up with the
Pear & Poppy Seed Microderm Polisher
for a bit heavier exfoliation. This exfoliant is great to use when your skin is looking a bit dull and tired. Awaken it with this heavy duty skin polisher. Bring circulation to the top of your skin with the stimulating powers of the
Lime Stimulating Treatment Masque
. Recommended for use the night before an event or night out on the town, your skin will surely be glowing and energized with this "hot" treatment! For a bit of a more mild, but equally effective masque, use the
Pink Grapefruit Vitality Masque
to reduce the signs of aging while enriching the skin's texture. End this beautiful regimen with a small amount of the
Couperose-C Serum
, which is high in vitamin C and other age-fighting ingredients that enhances your skin's appearance followed by the
Sour Cherry Whip Moisturizer
. Whatever your skin needs, you'll be sure to find the right products in the Detox Collection Tube from
eminenstore.com
!