Get an Ageless Eminence Glow with Organic Skin Care Assortment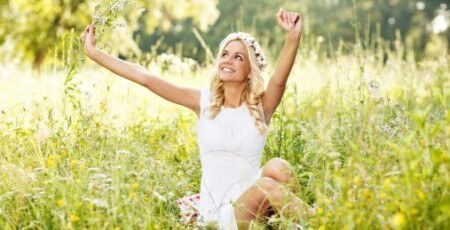 You can have all the skin care you need for an
ageless Eminence glow
. Every day your skin is exposed to the environment, pollutants, weather and all our bad habits. It's amazing it looks as good as it does! But as we get older, looking "as good as it does" just isn't good enough. Think of a baby's skin – it's firm and healthy – and the last time our skin looked like that, we were babies. Most of us enjoy beautiful skin when we are young and don't think about taking care of it properly until we begin to see the signs of aging. Our skin gets dull, blemishes develop, and then we see wrinkles and lines start to appear. It's never too late to start fighting the aging process and restore skin to a more youthful appearance. Eminence organic skin care will help you to bring back the ageless beauty of younger-looking skin.
Cleanse and Revitalize Skin for an Ageless Eminence Glow
The
Eminence Age Corrective Starter Set
is made up of five products proven to give your skin a youthful look. These products will cleanse your skin, correct the signs of aging, revitalize your skin and moisturize it to prevent further damage for an
ageless Eminence glow
. Each is formulated with powerful ingredients that will nourish and infuse your skin with the nutrients it needs to repair the signs of aging. Let's talk about your new beauty regimen and the way each product will help you achieve your goal of young looking and beautiful skin. Every beauty routine starts with cleansing your skin twice a day, every morning and every night. Never, ever skip this step! The Eminence Age Corrective Starter Set comes with Monoi Age Corrective Exfoliating Cleanser. Monoi oil is made from the petals of Tahitian gardenias. Used for thousands of years throughout the islands of French Polynesia, it makes skin softer while protecting it from the elements. It also includes a gentle exfoliant that will remove dead skin cells and clear impurities from your pores.
Get an Ageless Eminence Glow with Vitamins, Minerals and Antioxidants
Next, included are the Bamboo Age Corrective Masque and the Bamboo Firming Fluid. Bamboo extract has been an important ingredient in medicines and beauty treatments in Southeast Asia for centuries. It is a powerful antioxidant and has a high concentration of silica, which helps to stimulate your skin to make collagen – the protein that improves elasticity and firmness, and will give you an
ageless Eminence glow
! Smooth the masque over your face and then relax as it deeply nourishes and hydrates your skin with age-defying nutrients. Follow up with Bamboo Firming Fluid for an extra boost of collagen-producing silica, vitamins and minerals. Use the Coconut Age Corrective Moisturizer to continue your regimen of deep hydration. Coconut oil contains vitamin C, an antioxidant that also helps to strengthen the anti-aging properties of your skin. The luxurious richness of coconut oil nourishes and protects your skin without feeling heavy or clogging pores.
Age Corrective Set for an Ageless Eminence Glow
Finally, gently pat on the Neroli Corrective Eye Serum. Neroli oil is a clean, fresh oil that promotes the growth of new skin cells while nourishing existing cells. Application around the eyes helps to protect and improve the quality of the delicate skin around your eyes – the area which shows your age! The serum contains Natural Retinol Alternative to stimulate your skin's ability to produce collagen and elastin without the harmful side effects of retinol. Get started in your battle against aging with the great products included in the Eminence Age Corrective Starter Set for an
ageless Eminence glow
!