End Redness and Inflammation with Radiance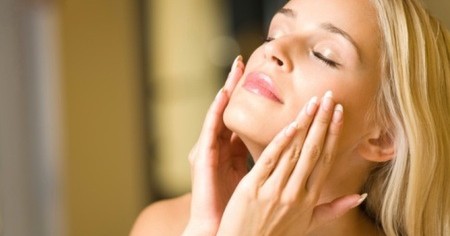 Treatment for
redness and inflammation
can lead to further problems, but it doesn't have to be that way. You can renew that radiant appearance with a sensational complexion, thanks to breakthrough remedies. Inflammation might occur frequently or occasionally to cause unwanted skin discoloration that's difficult to treat. Some people might have a condition known as rosacea, which leads to redness, flushing and broken blood vessels on the face. Rosacea can also result in swelling and breakouts. The skin might thicken and become bumpy in spots. For some people, the condition even affects the eyes with irritation and swelling. Whatever the causes or conditions you might experience, rosacea and other skin conditions that leave patches or spots on the skin are things you can conquer. Don't ever feel alone. Millions of people have suffered from rosacea and have managed it with successful treatment and care.
Gentle Skin Care Treats Redness and Inflammation
These skin conditions even affect the beautiful people of the world. Actress Cynthia Nixon is one of them. She thought the red patches and irritation she was experiencing were simply the result of acne that wouldn't go away. She tried treating the problem over and over, but the problems seemed to be getting worse. She discovered the
redness and inflammation
she had was rosacea after being properly diagnosed. She had been treating the condition the wrong way for several years, but finally learned to use gentle skin care for her regimen. It worked tremendously! Television chef Lisa Faulkner had trouble with red patches on her cheeks until she was finally diagnosed with rosacea. Now her problems have been solved. She keeps her skin calm and avoids stress, which is one of the triggers for rosacea symptoms. She also avoids spicy foods, which can trigger episodes. People usually have their own triggers and you might have to find out what they are. Check with your doctor, but also use organic skin care products, which contain natural elements to treat rosacea and sensitive skin.
Arctic Berry Peel & Peptide Illuminating System
works on skin sensitivity and rosacea, and also treats problem skin, mature skin, blemishes, dullness, age spots and wrinkles. It's a three-step process that returns natural radiance to your face and revitalizes your complexion. The peptides and arctic berries help to firm the skin, restoring collagen levels. The nutrients in the organic ingredients help to protect your skin and return it to normal.
Natural Treatment for Redness and Inflammation
To relieve the
redness and inflammation
, the illuminating system helps you along. You start with the Arctic Berry Enzyme Exfoliant, cleansing the face and cheeks. It's an enjoyable massage with the fingertips for three minutes. A warm feeling embraces you as you go onto the second step. Arctic Berry Advanced Peel Activator MA10 is another massage for a few minutes before removing it with a warm, damp towel. The third step is from the Arctic Berry Peptide Radiance Cream, which leaves you with a radiant look and maximum luminosity. It's a soothing moisturizer that absorbs into your skin. You can use the cream daily for lasting results and natural treatment for
redness and inflammation
.