Eminence Pill-in-Pill Solution Provides Quick Skin Care Results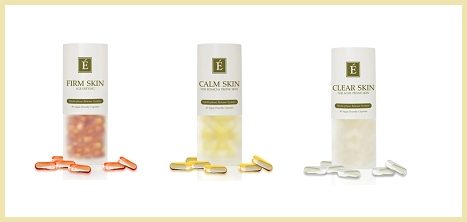 Eminence pills
have a unique delivery system to send nutrients through your skin and into your body for results that appear in less than a month, sometimes as little as 14 days! Natural ingredients, such as acai and arnica, provide protection from aging factors as well as reducing symptoms, including blemishes and patches, from acne and rosacea. Eminence organic vitamins possess what has been termed pill-in-pill technology, which shields the natural ingredients from water migration, allowing delayed release of the capsule's nutrients into your body. Organic ingredients, vegan casing and a moisture defense system surround the pill in a pill for a unique delivery system that provides proper digestion to quickly enhance your skin and overall health.
Expanded Approach for Your Beauty
Using this clever pill process, Eminence also employs the
VitaSkin Solution
to combine the vitamins with its beneficial topical treatments. Eminence has specially formulated cleansers and moisturizers that complement its Eminence organic vitamins. Use the supplements for enhancement of beauty and wellness with a variety of skin care products for an even better healthy glow! Choose from a wide selection of items, including Bright Skin Cleanser, Bright Skin Moisturizer, Bright Skin Masque, Firm Skin Acai Cleanser and Calm Skin Chamomile Cleanser, along with
Eminence pills
for an expanded approach at all-natural skin care. Each vitamin supply contains
30 vegan friendly capsules
. The multi-phase Emminence pills provide improvement for a variety of skin types and conditions. The Firm Skin Vitamins, for example, contain antioxidant-rich contents to firm the skin for all skin types, especially mature skin types. Nutrient-rich seabuckthorn protects your skin from damage while vitamin E and resveratrol supply your skin tissue with antioxidants to combat free radical damage and prevent aging signs. Vitamin A in the pill reduces wrinkles and fine lines. Firm Skin Vitamins also contain antioxidant grape seed and quercetin. Clinical research shows that 100 percent of users see an improvement in skin firmness in just 28 days!
Amazing Reduction in Blemishes and Scars With Eminence Pills
Even more remarkable,
Clear Skin Vitamins
revealed an astounding reduction of acne scars in only 28 days by all participants in a clinical study. Borage seed oil reduces clogged pores and lesions that can cause breakouts with anti-inflammatory action. Acidophilus rids your body of bad bacteria while introducing healthy bacteria to aid your skin. You also get the antioxidant and anti-inflammatory properties from zinc. This exclusive collection of
Eminence pills
also features Calm Skin Vitamins, which help tremendously in the disappearance of skin redness for people with rosacea and other skin conditions. Half of the people taking the vitamins report seeing redness vanish in only 14 days!
Organic Vitamins and Topical Solutions
As with all Eminence products, the Calm Skin Vitamins and other pills in the pill-in-pill collection provide you with completely natural organic ingredients. Calm your skin with antioxidant-rich flax seed oil, green tea extract and blueberry. Garlic oil acts as an anti-inflammatory and antibacterial agent. Milk Thistle purifies the blood and controls inflammation. Pine bark extract helps erase spots and blisters. Take full advantage of the natural ingredients in Eminence organic vitamins along with the topical skin care applications that also provide organic absorption into your skin for the best of health! You can easily make the best choice for your skin through an Eminence shop online or a spa professional, who can suggest the best Eminence organic product for your particular needs. You might enjoy supplementing your healthy diet with vitamins. Now you can benefit from beauty and a wonderful complexion with
Eminence pills
and the VitaSkin Solution.