Eminence Organic Lip Trio Makes You Totally Kissable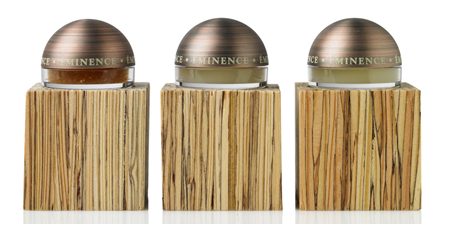 Keeping your lips naturally refined for a gentle smoothness with delicious fruit-flavored ingredients makes you adorably kissable with organic lip gloss. What makes you even more irresistible with improved facial features is using Eminence organic lip gloss. Eminence skin care products stand above all others in the organic industry because of the farming and production methods used in manufacturing skin care. Eminence uses only the freshest, handpicked natural herbs and fruits to enhance its skin care items. The natural ingredients are mixed by hand into a result that provides you with naturally glowing skin and beautifully kissable lips from lip care products.
Organic Lip Gloss
While you enjoy the healthy benefits of organic skin care for your face and body with creams, lotions and moisturizers, don't forget the value and health of your lips. With Eminence Lip Trio, you get the best of everything for your naturally sweet lips. The product offers a three-step treatment to reduce dryness and refine your lips and surrounding area with natural fruit enzymes. Use the rich masque to deeply hydrate your skin and lips and then add a touch of the non-petroleum balm to stimulate collagen for lip plumpness with a mint flavor.
Eminence Citrus Lip Balm
The citrus enzyme lip exfoliator in the trio includes vitamin C from orange and lemon peel to provide you with antioxidants that fight skin damage. Pineapple enzymes also bring you vitamins to parch the lips for smoothness. The product also contains vitamin E for gentle exfoliation. The lip plumping masque hydrates with shea butter for calming and moisturizing. Avocado oil moisturizes for lip contour and softness while the Hawthorne berry adds vitamin C and antioxidants. Finish the fullness to your lips with citrus lip balm with sunflower seed oil with rich vitamins and shea butter. Lemon balm brings antioxidants, toning and calming to your lips. The result is youthful, voluptuous lips!
Eminence Cinnamon Kiss Lip Plumper + Eminence Organic Lip Gloss
The organic lip gloss line includes the Eminence Organic Kiss Lip Gloss in spice kiss, plum kiss and strawberry kiss shades. Sweet almond oil for softness and nourishment, coconut oil for moisturizing and antioxidants, and avocado oil for proteins and amino acids build your lips naturally to make them deliciously kissable. You also get raspberry for vitamin C-rich antioxidants and bioflavonoids.
Eminence Cinnamon Kiss Lip Plumper
invigorates and revitalizes the lips with cinnamon oil. Jojoba oil deeply hydrates and pumpkin seed oil provides enzymes and antioxidants to combat aged skin. Many more natural ingredients pack the kiss lip plumper, including antioxidant rich capsicum and clove oil for antibacterial action. The pomegranate oil contains disease-fighting polyphenols and antioxidants for protection and skin balance. Blueberry seed oil cleans your pores while tightening and toning the skin. Treat your lips to the naturally sensational skin care products from Eminence. The natural ingredients bring brightness and youth back to your skin. Your lips need the same treatment. Let the lip trio products improve the texture and sweetness of your lips. When it comes to organic lip gloss, choose Eminence for natural enhancement and improvement of your lips.