Eminence Fire Thorn Treatment Uses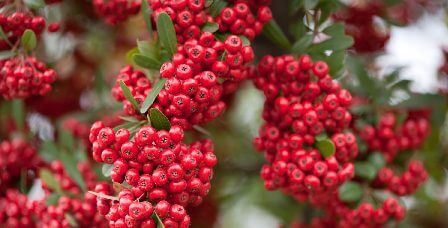 The happiness of pregnancy has the temporary drawbacks with such unwelcome additions as stretch marks and breakouts, but
Eminence Organic Skin Care
has the all-natural solutions to those skin problems. Not only do the treatments from
Eminence
cleanse your skin and eliminate impurities caused by hormonal imbalances at this vital time, but the organic compounds also leave you with a rich, radiant complexion. You can actually have people rave about your appearance during your pregnancy!
Fluctuating Hormones = Changes in Skin
You might notice an increase in breakouts during your first few months of pregnancy because of the shift in hormonal activity. The overproduction of androgen hormones, which trigger premenstrual blemishes, ignite the oil-producing glands in your skin when you are pregnant. So, you are faced with the same problems you may have had as a teen due to hormonal changes. You might be tempted to turn to acne or blemish medications. But many of these commercial products contain chemicals that worsen your skin problems. Fortunately, the organic ingredients in the creams and lotions from
Eminence
provide you with the perfect balance at this crucial time. Pregnancy also causes you to lose moisture in your skin as fluids and blood are needed by your baby. It makes it difficult for your body to hydrate itself, so you are also left with dry or dehydrated skin. These changes to your body increase the risk of developing stretch marks. It seems like you can't win during pregnancy, but it's not so.
Eminence Organic Skin Care
supplies your body with vitamins, firming agents, moisturizers, fruit extracts and antioxidants to soothe and smooth your skin even during pregnancy.
Ingredients in Eminence Organics Fire Thorn Treatment
The organic ingredients in
Fire Thorn Treatment
sooth irritated skin due to dryness and dehydration. The treatment works for all skin types as well, especially for sun damaged skin. Fruit acids moisturize the skin with assistance from vitamins, including vitamin A, known to help erase stretch marks. Fire Thorn Treatment balances moisture levels in your skin to combat the hormonal changes during pregnancy. It helps the skin's regeneration process for skin renewal, just as the natural skin process occurred when you were not pregnant. Fire thorn oil in the product acts as a protective firming agent while corn germ oil, also known to successfully treat stretch marks, nourishes the skin for enriched moisture. Grape seed oil, another natural remedy for stretch marks, also moisturizes your skin. Biocomplex booster in the treatment contains powerful antioxidants to protect your skin cells from damage for healthy skin tissue build-up. The thick cream provides a wonderful feeling for a good massage. So you feel great while your skin becomes revitalized and enriched. Watch any visible signs of aging disappear as the skin becomes firmer with more elasticity. Irritation from dry skin is reduced or eliminated. You will also find your complexion brings you a vibrant glow you never thought possible, even while you are pregnant! The same results occur in people with mature or dry and dehydrated skin. Shop Fire Thorn Treatment at
eminenstore.com.
You will probably be using
Eminence Organics
Fire Thorn Treatment
long after your pregnancy. Whether or not you're pregnant,
Fire Thorn Treatment
restores a healthy complexion with its rich natural properties to protect your skin from damage and improve skin texture.
Eminence Organic Skin Car
e enhances your appearance with radiance from this and other organic skin care products.