Eminence Anti-Blemish Collection Tube Reviews are In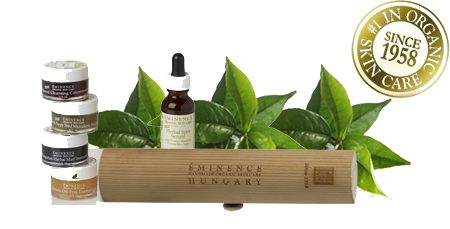 You get everything you need to banish blemishes, breakouts and other unexpected skin problems with the Eminence Anti-Blemish Collection Tube. You get a healthy balance of natural oils to keep blemishes away while rewarding your skin with a smooth, firm texture for improved appearance. Highlighting the collection is the highly popular
Herbal Spot Serum for acne.
This product has already been getting excellent reviews from satisfied customers who want others to know about its effectiveness. The serum balances the skin to get rid of breakouts in a day or two, according to one reviewer.
"It really does work well," the customer points out. "Eminence has high quality products."
This makes it a favorite skin care line for many people, particularly for those facing acne breakouts.
"People I know have had great results!" another reviewer notes on using the herbal acne remedy.
Eminence Organic Acne Treatment
Eminence organic acne treatment remains unique in the skin care industry.
The natural products battle acne conditions on two fronts. The Herbal Spot Serum, for example, contains antioxidants to prevent skin damage and nutrients to reinforce the skin tissue. The wide range of natural ingredients in Eminence Anti-Blemish Collection Tube products tackle excess oil problems while leaving your skin naturally moisturized for skin renewal and health. The collection comes with mineral cleansing concentrate, tomato oil-free gel, the Pear & Poppy Seed Microderm Polisher, the Herbal Spot Serum, and the Hungarian Herbal Mud Treatment, known worldwide for it effectiveness in eliminating blemishes.
Eminence acne treatment works far better at eliminating blemishes and acne breakouts because of its attention to natural ingredients.
There are no chemicals or hazardous substances used in any Eminence skin care products. Many acne skin care products use chemicals in attempt to dry out blemishes. It works only temporarily. The blemishes dry up, but your dried skin disrupts the natural process of your skin tissue. Normally, old skin cells die off and new healthy skin cells develop to regenerate skin tissue for a healthy appearance. The dried skin interrupts this process and, as a result, leads to more skin blemishes. That's why you keep looking for new acne treatments. At first, it seems like the products work, but then you keep getting hit with breakouts. The chemicals in these products also contribute to skin damage that continues the acne cycle and also leads age-related skin problems, such as lines and wrinkles.
Fan Favorite: Eminence Anti-Blemish Collection Tube
Acne treatment from Eminence eliminates the excess oil in the skin's pores to get rid of blemishes
. But the natural ingredients also keep your skin healthy with natural oils. Your skin stays naturally hydrated for new skin renewal and a regeneration process that strengthens your skin tissue. The result is a natural glow in your appearance, free from chemicals and acne. Your skin continues to stay invigorated and vibrant as antioxidants from natural fruit extracts, vitamins and minerals provide a long-term shield against skin damage. You no longer have to worry about acne and at the same time your skin appearance keeps on improving. It's the ultimate combination of beauty care and acne treatment. With the Eminence Anti-Blemish Collection Tube, you banish blemishes, zits and breakouts forever while developing beautiful skin.