Clear Skin Probiotics Fight Acne, Rosacea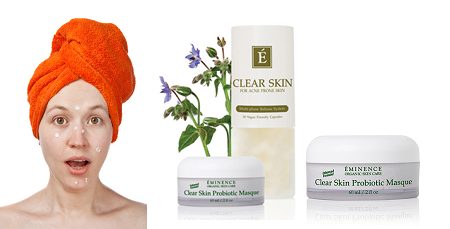 Research suggests
clear skin probiotics
combat acne and rosacea. These beneficial bacteria promise excellent results along with traditional therapy by dermatologists. Probiotics contain healthy bacteria your body and skin need. Incredible findings from clinical research show that probiotics may fight against the development of acne and rosacea, according to the American Academy of Dermatology. Although more studies are needed on the effects of the healthy bacteria, research suggests probiotics can boost the immune system to reduce or prevent inflammation, redness and breakouts. Probiotics, known to help provide healthy digestion, can also work on the skin's surface to help skin cells recognize and attack bad bacteria while allowing healthy bacteria into the skin. This provides your body and skin with a proper balance for healthy skin renewal. The remarkable effects can work with probiotic cleansers, creams and masques to help remove the impurities associated with skin conditions.
Research Shows Clear Skin Probiotics Treat Skin Problems
The AAD reports that probiotics contain antimicrobial properties that fight bad bacteria. There are good bacteria and bad bacteria. The key is getting the good bacteria to take over and help your immune system. Probiotics work similarly to antibiotics in treating acne and rosacea, according to the research reported by
the AAD
.
Clear skin probiotics
also have calming effects by letting your skin cells know bad bacteria are present. These are healthy signals for your skin cells to send messages to the immune system that will then attack the bad bacteria and prevent flare-ups that may occur from acne and rosacea. The research, of course, only confirms what
Eminence Organic Skin Care
has known all along. Nature is the best remedy for your skin. Adding the organic ingredients, such as probiotics, to skin care products protects and beautifies your skin and appearance. You can put nature to work with
Clear Skin Probiotic Moisturizer
, which works with all skin types but is especially beneficial to those with problem skin, such as acne and rosacea. Just as Eminence has long known about the wonders of probiotics, so have its customers. They rave about how the moisturizer has helped improve their skin following breakouts and they recommend it to all people dealing with skin problems. On top of that the probiotic moisturizer has a refreshing, cool feeling, so you feel wonderful and also feel the product go to work on your beautiful skin. You may very well call the product the best moisturizer out there.
Customers, Researchers Agree on Clear Skin Probiotics
The
clear skin probiotics
and natural antibacterial ingredients in
Clear Skin Probiotic Moisturizer
help to instantly calm your skin to combat acne and rosacea. The nourishment and moisturizing from the probiotics in yogurt also provide natural exfoliating. The moisturizer contains tea tree oil, found in research to work as effectively as over-the-counter acne medications, but without the artificial additives and chemicals. So you actually get better results because you prevent skin flare-ups while also protecting your skin from additives that can cause further damage. Powerful antioxidants from natural sources also work to protect your skin against damage from free radicals. Customers and researchers now recommend
clear skin probiotics
!