Clear Results of Eminence Organic Care for Cystic Acne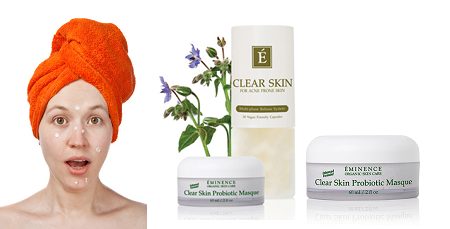 Wipe out worries and problem skin with
Eminence organic care for cystic acne
. Also called severe acne or simply acne, cystic acne leads to those unwanted pimples, breakouts, blackheads, whiteheads, scaly red skin and scarring that can cause so much frustration and embarrassment. You might be under the mistaken impression that you alone suffer from these skin problems, but that's not true. Irritated areas of the skin from acne target more young people and adults than you think. Through no fault of their own, they have to deal with these unpleasant issues. Luckily, more and more of them are discovering the skin care that reduces and eliminates the problems. You can be one of lucky many!
Eminence Organic Care for Cystic Acne Makes Believers
People with acne-prone skin can further aggravate the condition by using cosmetics containing harsh chemicals and synthetic additives. These unnatural sources interfere with the skin's normal process to rid tissues of excess oil and regenerate skin. You'll find no chemicals or artificial fragrances in Eminence products. The purely organic ingredients in
Clear Skin Probiotic Cleanser
clarifying gel, for example, balances your skin naturally with cucumber and tea tree oil, known to reduce acne in clinical studies. The sweet almond milk and yogurt reduce acne breakouts without reducing natural moisture that's healthy for the skin.
Eminence organic care for cystic acne
has made ecstatic believers out of customers. A young professional suffering from terrible acne tried a variety of products, including prescription medicine, to relieve skin issues to no avail. "Nothing worked, but then I realized the chemicals in these products were extremely harmful to the skin," she says. That all changed when she gave the Eminence probiotic cleanser a try. "My acne is under control and I won't live without Eminence!" Another customer says the probiotic cleanser, mask and moisturizer have cleared up her breakouts and also prevented new ones from popping up. Probiotics balance the bacteria in your body by removing the bad bacteria and retaining the healthy bacteria.
Selections for Eminence Organic Care for Cystic Acne
Eminence organic care for cystic acne
includes a variety of selections to revitalize, tone and purify your skin. The
skin care products
shrink the appearance of skin pores while nourishing and softening your skin. Try the Yam & Pumpkin Enzyme Peel for problem skin. The products also improve the appearance for all skin types. The organic ingredients contain natural antioxidants that prevent skin damage from the sun or outside elements. This not only clears up any symptoms of acne, but also protects your skin from the development of lines and wrinkles over time. You get to watch skin blemishes disappear once and for all while also getting the benefits of youthful skin from
Eminence organic care for cystic acne
.