Chai Berry Products Available from Eminence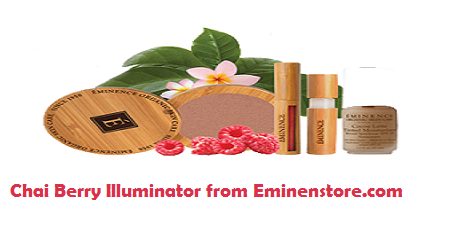 Chai Berry Oil-Controlling Illuminator Powder
Organic skin care products from Eminence include chai berry, which contains vitamins, minerals and antioxidants to improve your skin's appearance while protecting the skin from damage.
The antioxidants in the
oil-controlling illuminator
powder fight off free radicals that trigger skin damage. Free radicals come from environmental pollutants and irritants. They are difficult to avoid in the oxidation process because they seem to be everywhere. The skin care you use play in important role in warding off these damaging effects. Antioxidants in chai berry skin care products combat free radicals to protect your skin cells. The cells are then able to go through healthy renewal to build new skin tissue and provide you with healthy skin and a beautiful complexion. The acai berry in the illuminator also contains antioxidants as well as nourishing vitamins and minerals to tone the skin. Green tea extract helps to protect your skin from damage.
Chai Berry Mineral Makeup
Mineral makeup and organic mineral cosmetics from Eminence contain the same and additional natural elements for a healthy skin foundation and protection for a flawless and healthy complexion.
Rosemary extract in many Eminence skin care products is packed with antioxidants and also works effectively as an astringent. Jojoba seed oil moisturizes your skin for a soft feeling. The vitamins and minerals in chai berry and other natural products from Eminence protect your skin naturally from skin irritation and flare-ups that may occur with certain skin conditions. Many products that offer skin care may include chemicals to enhance the product or synthetic ingredients for preservatives. Eminence only contains natural ingredients and avoids the use of all chemicals. The chemicals in commercial products can actually irritate the skin to trigger further skin problems. You may find yourself jumping from product to product in an attempt to avoid blemishes and conditional flare-ups, not realizing the very skin care products you use are the problem. Sticking to
Eminence organic skin care
items will keep your skin free from irritants because there are no chemicals. The all-natural ingredients also provide you with a healthy, young-looking glow because your skin welcomes the additional of natural ingredients.
Chai Berry and Anti-aging
You can search the world for anti aging remedies, but you have to look no further than any online store or spa that offers
Eminence skin care.
You get the beauty you want from a skin care product, but also receive anti-aging properties to fight wrinkles and lines with real, natural ingredients. Eminence offers you the best of all possible worlds. Your skin stays young looking and you will become complimented on your new and impressive appearance. Many skin care professionals use the products themselves when they see what Eminence does to the features of their clients. Spa therapists and retailers are quick to offer Eminence products because they know customers will be coming back for more treatments and successful skin care products. Whether you use chai berry, acai berry or any other of the natural fruit for skin care, you can be assured that your appearance will improve significantly, thanks to the wonderfully natural ingredients in Eminence skin care.