Biodynamic Beauty in a Box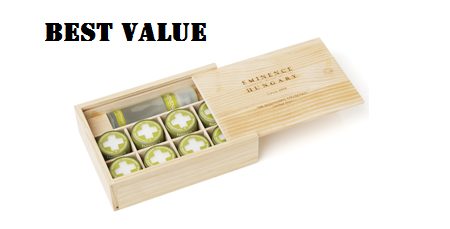 Fresh, lively beauty secrets from nature come packed together in one splendid box full of miracles from
Eminence Organic Skin Care.
It may be hard to believe your skin will be glowing with youthful charm and vibrant beauty because of one small package, but you can have those benefits from the variety of products clinically proven to improve and enhance your skin in the
Biodynamic Wooden Box.
The stunningly attractive box contains the Biodynamic Collection Tube, which features
Lemon Grass Cleanser, Hawthorn Tonique, Radish Seed Refining Peel, Primrose and Melon Balancing Masque, Yellow Sweet Clover Anti-Redness Masque, Apricot Calendula Nourishing Cream, Echinacea Recovery Cream, Full Size Bearberry Eye Repair ($70) Cream and Quince Nourishing Body Lotion.
And you get all this at the fabulously low price of $118.
The Beauty of Biodynamic
Biodynamic "Beyond Organic" Collection
What makes the collectibles in this wooden box so magnificent is the exclusive Biodynamic process from Eminence. The hypoallergenic contents of these items have been shown in research to reduce or eliminate skin imperfections, such as lines and wrinkles, while boosting your skin tissue for a wonderfully attractive appearance. The naturally effective growing process for a holistic approach to beauty begins with the Biodynamic methods used to harvest ingredients in the farmlands of Hungary, known worldwide for its spa culture. The ingredients from fresh fruit pulp, herbs, plants, vegetables and spices are hand picked and then hand mixed without mechanical procedures or chemical fertilizers. This completely organic process provides you with the fresh smell of natural ingredients when you open any
Eminence Organic Skin Care
product from the
Biodynamic
collection. The products, high in nutrients and naturally active compounds, beautify your skin with purity from nature. You have absolutely no chemicals to worry about when applying items from the
Biodynamic
collection or other
Eminence
products. The crops used in the making of Eminence ingredients grow from natural herbs and mineral composts. That's why the products work naturally within your skin without the irritation and skin damage consumers can receive from popular commercial brands that use chemicals. Your senses and your skin become enlivened with amazingly healthy skin benefits.
What's In the Biodynamic Wooden Box?
Biodynamic Box contains a full size Bearberry Eye Repair Cream ($70 value)
The Biodynamic Wooden Box Collection features
Bearberry Eye Repair Cream($70)
at its full retail size. You get luminous and youthful eyes from moisture and nourishment. Your appearance brightens with the reduction of wrinkles and crow's feet. Bearberry Eye Repair Cream contains remarkable abilities to smooth and cleanse sensitive skin, but also works effectively on all skin types. The
Lemon Grass Cleanser
hydrates and revitalizes your skin with a clam, cleansing action. The cleanser removes buildup and impurities from your skin with mild coconut, sunflower and olive oils. It soothes the skin with herbal elements for skin renewal. The
Hawthorn Tonique
spray in the collection balances your skin with hydration. The tonique prepares your skin for other
Eminence
products by cleansing the surface of impurities and ingredients left from previous products. Your skin becomes toned and balanced. Enjoy the benefits of
Radish Seed Refining Peel
, which soothes, firms and plumps your skin to keep breakouts at bay, thanks to wonderful herbal extracts. The
Biodynamic Primrose & Melon Balancing Masque
nurtures your skin with blends of marigold, primrose and jojoba oils. You also have the Yellow Sweet Clove Anti-Redness Masque to sooth and protect your skin from irritation and redness.
Apricot Calendula Nourishing Cream
deeply penetrates your skin with Echinacea, flax seed and aloe for natural hydration. The cream moisturizes while healing the skin process. Repair your dehydrated skin and relieve irritation with the healthy application of
Echinacea Recovery Cream
. Top it all off with the
Biodynamic Quince Nourishing Body Lotion
for a smooth, soft and youthful-looking appearance. The
Biodynamic Wooden Box collection
from Eminence Organic Skin Care covers all areas of your face and body, as well as all your needs for a beautiful and natural complexion.
Gift Set Includes:
Lemon Grass Cleanser (0.5oz/ 15ml)

Hawthorn Tonique (1oz/ 30ml)

Radish Seed Refining Peel (0.5oz/ 15ml)

Primrose & Melon Balancing Masque (0.5oz/ 15ml)

Yellow Sweet Clover Anti -Redness Masque (0.5oz/ 15ml)

Apricot Calendula Nourishing Cream (0.5oz/ 15ml)

Echinacea Recovery Cream (0.5oz/ 15ml)

Bearberry Eye Repair Cream (Full Size 0.5oz/ 15ml)
Quince Nourishing Body Lotion (0.5oz/ 15ml)