Anti-Aging Products Restore Youth and Beauty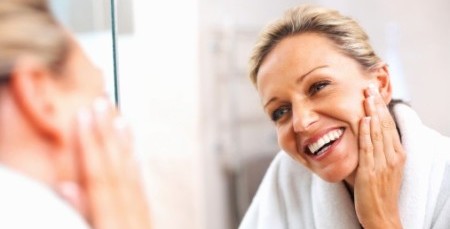 The miracle of
anti-aging products
provides young, firm, beautiful skin. As time passes the skin may thin and sag. Wrinkles appear and we look older. Is there nothing we can do to fight back against aging? Finally, the answer is yes! The signs of aging are the result of both external and internal factors. The external reasons are primarily sun exposure, dirt and impurities of the environment. The internal factors are how we treat our skin through lifestyle choices and our personal genetic makeup. Our biological makeup drives how soon we will begin to age – when our skin will thin and sag. After puberty our skin begins to slow and then stops its collagen production. Collagen is part of the tissue in our skin that makes it firm and supple and able to rejuvenate itself. Collagen gives our skin elasticity and the thickness that looks like healthy, young skin.
Dramatic Breakthroughs in Anti-Aging Products
Over the past few years, there have been dramatic breakthroughs in anti-aging technologies. A primary focus of this technology has been in developing a way to stimulate our skin's collagen production.
Eminence Bamboo Age Corrective Masque
is a leader in
anti-aging products
and guaranteed to increase collagen levels as it dramatically reduces the appearance of wrinkles and fine lines. Bamboo Age Corrective Masque includes important ingredients that are proven to turn back time: anti-aging stem cell formulas, PhytoCellTec Swiss green apple stem cells and Natural Retinol Alternative. The research on the anti-aging properties of plant stem cells is still in the clinical trial stage for gathering empirical evidence of its success, but so far the results are dramatic. The use of plant stem cells is an important part of anti-aging technologies. Plants can't escape danger by running away, so they have developed the ability to constantly regenerate themselves. Plant stem cells don't age but constantly create new cells and these cells can grow in any tissue in the body. Incredibly, plant stem cells function in the bodies of people very effectively. Stem cells are full of strong antioxidants and peptides to rejuvenate and regrow cells. The preparation of Swiss green apple stem cells is made for easy penetration into the skin to deliver the benefits of the antioxidants and age-fighting nutrients to your skin. It's especially effective to fight aging and good for sensitive skin.
Anti-Aging Products Deliver Nutrients to Nourish the Skin
Bamboo Age Corrective Masque is among the
anti-aging products
that include Natural Retinol Alternative. It's made from vitamin A, proven to fight the aging signs. Retinol products are often irritating to skin and are difficult to tolerate, so Eminence uses a natural alternative to get all the benefits without the irritation. Natural Retinol Alternative enhances your skin's ability to regenerate new skin cells, reduces the signs of aging and protects your skin from the irritation of regular retinol products. Biocomplex, a mixture of vitamins, coenzyme Q10 and alpha lipoic acid, is another ingredient of Bamboo Age Corrective Masque. It helps to brighten the skin and gently exfoliates to allow the new skin cells an opportunity to rise to the surface.
Anti-aging products
deliver antioxidants and nutrients designed to nourish your skin and restore it to a youthful, beautiful appearance.