Ageless Skin Overnight from New Argan Stem Cell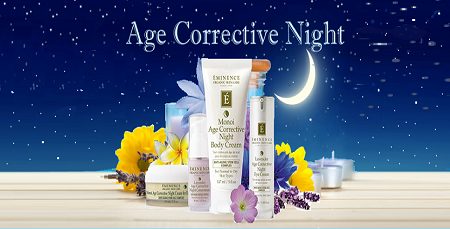 Treat your skin to the sensation of overnight beauty and enhancement with the new line of
Eminence Age Corrective Night Collection
, which features the unique
Argan Stem Cell Complex
formula, from
Eminence Organic Skin Care
. The women of Morocco have maintained a tradition of beauty over the years by using argan oil as the foundation of their skin care regimen. The beauty of the Moroccan women has led many skin care manufacturers to use argan as an ingredient in their products. Research has even revealed the health benefits argan has on the skin, improving skin texture and elasticity. Argan aids the skin with replenishment and renewed skin growth to reverse the signs of premature aging and damage from sun exposure.
Argan for Anti Aging
Lavender Night Eye Cream for Intense Hydration
The argan tree is native to Morocco and areas in the western Mediterranean. It lives for about 200 years with bright leaves and yellow-green flower petals. The sweet smelling fruit of the argan surrounds the nut and seeds from which scientists have developed argan stem cells for use in skin care preparation. Stem cells from the argan can work effectively in the human body just as they do for the long-living argan tree to provide anti-aging remedies. Oils from the fruit and seeds contain large amounts of healthy unsaturated fatty acids, which feed the skin with protective antioxidants to fight free radials from oxidation that destroy skin cells.
Eminence Organic Skin Care
utilizes the anti-aging properties of argan stem cells with its
Age Corrective Night Collection
for younger looking skin. Its exclusive
Anti-Aging Stem Cell Complex
improves skin density and helps skin cells to regenerate to erase wrinkles and lines. Clinical studies have found that the argan stem cell formula along with active ingredients from nutmeg seeds boost the skin's natural growth process. Dried skin tissue disappears so healthy, new skin cells can develop for skin repair and renewal. Your skin stays young looking and ageless.
New Products from Age Corrective Night Creams
Monoi Age Corrective Night Cream
hydrate the face and neck whether you have normal, dry or mature skin. Argan stem cells and nutmeg seed in the complex formula smoothes the appearance of lines and wrinkles for an enhanced skin texture. Argan oil softens and moisturizes while pumping your skin with vital antioxidants. Meanwhile, monoi, a fragrant Tahitian oil, firms the skin with hydration. Moisturizing and skin revitalization also come from primrose oil and shea butter. Plus, your skin receives additional benefits from jojoba oil for hydration and grape seed oil with antioxidants.
Lavender Age Corrective Night Concentrate
for overnight hydration. Lavender smoothes, softens and moisturizes normal, dry and mature skin types. This product from the Eminence Age Corrective Night Collection also features he Argan Stem Cell Complex, argan oil, primrose oil, shea butter and jojoba oil. Eminence
Lavender Age Corrective Night Eye Cream
improves the delicate eye area for all skin types and, of course, includes the Argan Stem Cell Complex and argan oil. Your skin around the eyes becomes softened and moisturized as you watch wrinkles and lines disappear. Wake up to a fabulous and ageless appearance with the new
Age Corrective Night Collection
from
Eminence Organic Skin Care.